Hopefully everything will work smoothly for you – however, if there is something wrong, please take a moment to email us (forum@badminton-coach.co.uk) so that we can put it right !
 Please do not SPAM this forum – anyone found posting non-badminton related messages or ADVERTISING without permission will be removed without notice and may be banned from using the forum in the future.
Membership of this Badminton Discussion Forum is FREE
To join, just click the Register button just BELOW on the right.  Please note however that any strange email addresses (lots of random letters etc) with an obscure user name will be deleted.



Topic RSS
Slippery floors in league
November 26, 2013
11:52 pm

Dee
Forum Posts: 29
Member Since:
December 10, 2011

Offline
I have a real gripe about some venues in league play having floors that are unsuitable for badminton. Ours is a dynamic sport when pushing off with effective grip is crucial, and yet I have already played in two halls this year that were slippery. They weren't just dusty floors but old, worn ones that provided hardly any adhesion even when wearing good Yonex shoes. How can this be acceptable?
Even so, it seems my particular problem is my style of play – rapid movement that relies on grip, often jumping to smash or drop. This I find impossible on slippery floors. I put a damp towel down and walked over it every point or two, but in the last venue this made little difference if a rally went on for several shots. And it isn't sour grapes, as in the first match we won all our games.
Yet how is it that some players cope with it and others just can't? I've heard it discussed a couple of times that it depends on one's movement technique. Well, mine is such that I'm rendered quite below par on floors that give little or no grip, and it's immensely frustrating going to play a match and being unable to play to your potential. I'm now doing what someone in another league did – making a written note of venues with unsuitable floors and not playing at them. During this last match I couldn't push away with any grip and twice tweeked my left ankle. It just isn't worth risking injury playing in these places and I can't think of any solution other than opting out of these matches.
Do people that continually play on such floors adapt, or is their footwork such that it negates the lack of grip? To my mind, playing on slippery floors is not badminton as is should be, and people like me are at a great disadvantage when doing so. I like playing matches, and after all we play because we enjoy it don't we? But there's zero enjoyment when you can't play to your usual standard because it's impossible to move effectively. Rant over, thanks for reading and comments very welcome.
November 27, 2013
1:44 pm

Peter Warman
United Kingdom
Forum Posts: 239
Member Since:
May 25, 2010

Offline
Interesting topic to raise.
Personally I've never had much problem per se, yes there are slippery halls but not enough for me to worry a lot about it. I can understand the rant, and it's not great that you are now avoiding halls with slippery floors but on the other side of the coin it's good that you are not taking the risk if there is a possibly of injuring yourself.
I think one of the problems here, is actually your shoes. They are made by Yonex. Yonex don't really specify what type of floors said shoes are made for. I've found this out whilst looking at Yonex shoes at their stall at the All Englands. Was looking at an expensive pair and asking a few questions and basically they are good shoes, but not for halls. More for the floors like the All England's courts, rubbery or carpet type. 
This issue has also risen recently for me so it's funny that you should bring it up. I played at another club for a change and a couple of the kids there were struggling with the floor and had a mat that they used in between points to "clean" the soles of the shoes. And you guessed it, they were an expensive looking Yonex shoes!
Now, I'm not saying that all of Yonex shoes are bad, as quite a few people at this club had Yonex shoes and only a couple of them were experiencing problems with the floor. What I am saying is, some shoes are better for all floor surfaces than others even if it is made by Yonex and advertised as a badminton shoe. How hard is the bottom of the shoe? If it's very hard like a pair of very cheap shoes you can get at a discount store, then maybe they don't suit the hall.
I used a pair of Prince squash shoes, for two reasons. I have narrow feet, and they are better soled for all types of floor surfaces.
Maybe play the halls that you struggle with, with a different pair of shoes and see how you get on?
Hope this helps in some way, it's only my opinion, but I think Yonex should highlight little things like this but there you are 

Badminton Gives Me A Purpose In Life – To Serve Others
I'd Rather Be Playing Badminton…………..
November 27, 2013
5:02 pm
Roger
West Midlands UK
Forum Posts: 147
Member Since:
March 10, 2013

Offline
Good topic Dee
I am sure that the decline in the standard of the floors in UK halls is symptomatic of Local Authority cut backs. My local hall used to have the floor surface stripped back and  renewed every year.It's been 4 years since the last time !!!!
The worst slippery conditions seem to coincide with the league season and I believe lack of cleaning is part of the reason. Many halls are used for multi-purpose and many participants, including some badminton players, don't change their shoes and bring the mud and dust in from outside. As a health and safety issue it is up to the facility provider to ensure that the playing surface is fit for purpose. I have to say that, on requesting the floor to be swept, I have had no problems with this being done, the point being YOU have to ask.
Slippery floors are a nightmare for your game. Not only are they dangerous but they sap your confidence and ruin the night. I'm with Pete that not all shoes are the same. Since I have been carrying 2/3 pairs with differing degrees of grip I have had no problems and found them a worthwhile  investment.  
November 27, 2013
6:18 pm

Dee
Forum Posts: 29
Member Since:
December 10, 2011

Offline
Peter, a good point you raise about shoe choice. I bought my Yonex shoes new in August and don't considered other brands as I've  found they (normally) provide good grip + cushioning and support. Somehow I will have to find out what alternatives give superior grip on slippery floors without having to buy a shop load! That said, I personally maintain that badminton is a sport that really ought to be played on courts with adequate grip for dynamic movement without risking getting injured.
Rogerh, you're dead right about these floors sapping confidence. If you aren't confident about pushing off, jumping and landing, etc., one's game is severely impaired. At my last match I would have walked away after the first game but for looking like a whiner and letting the team down.
November 28, 2013
12:54 am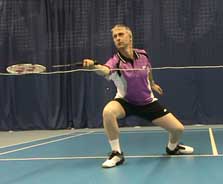 Paul Stewart
Cheshire, UK
Forum Posts: 1283
Member Since:
February 15, 2011

Offline
I occasionally coach at my local sports centre and cannot believe how bad the floor is. I saw a player slip and smash his head on the floor. Despite complaints, the manager says they have contacted the manufacturer who have undertaken an on site inspection and passed it as safe. What a joke.
One of the big issues I've noticed with regard to movement is that too many players stand too tall and move with only slighest bend in the knees. This means movement appears good on a decent floor, albeit I'll guess slower than the player could be. By moving like a "crab" a player lowers their centre of gravity and therefore doesn't need the same grip to push off.
I've exclusively used Yonex shoes for so many years that I can't really comment on Peter's post. However the Victor shoes I wear now are really good although I haven't noticed a difference in grip.
I've seen the wet towel used so many times. The best liquids to use, I'm told are Coke, Fanta, Lucazade, etc. I'm not so sure the leisure centre will like cleaning the sticky mess later, but in my mind if they provided a safe environment then a player wouldn't need to resort to such methods.
Yonex have a shoe spray which I have tested but it is no better than a damp towel, but costs a lot more.
Paul
Many of the leisure centres I play matches in are shared with schools and very rarely mopped. 
I turned up to play a county game the other week in our home venue and proceeded to mop all 4 courts myself because I wasn't prepared to allow my team to risk their bodies on it. 
I came to play at the same venue 4 days later and the floor was back to it's usual slippery state…
I use a damp beer mat as previously suggested, although i have seen tournament players spray their shoes with cheap hairspray to add a 'tack' to their soles. 
December 2, 2013
7:28 pm

Dee
Forum Posts: 29
Member Since:
December 10, 2011

Offline
I hear what you're saying about movement, Paul, and will bear it in mind. I think as much as anything I've a psychological issue with these floors as I don't have any confidence to move quickly and safely, and that adversely affects my play. I contacted Yonex and they recommended I try SC2 shoes (my current ones are SHB-60U).
This idea of using hairspray or coke….surely it wears off pretty quick doesn't it? But maybe I'll keep some in my bag just in case!
December 3, 2013
12:52 pm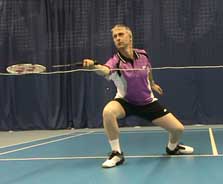 Paul Stewart
Cheshire, UK
Forum Posts: 1283
Member Since:
February 15, 2011

Offline
Dee
SC2 shoes do not offer much difference in grip to other Yonex shoes. Aside from that I can't comment as i have no idea who you spoke to.
Yes, hairspray etc does wear off although coke may make the floor tacky for longer. I'm not sure the caretaker or cleaner will approve but there again they aren't risking their neck by playing on such a surface. Maybe this is the only real benefit of Coke.
Test away and please report on your findings.
Paul
December 6, 2013
4:27 pm
John
Southampton
Forum Posts: 76
Member Since:
December 31, 2011

Offline
Lipsmacking, thirst quenching, ace tasting, motivating, cool buzzing, high talking, fast living, ever giving, cool fizzing…floor sticking Pepsi ! (other soft drinks may be available).
That probably shows my age…like the thread though. One of our local halls is particularly slippery and it can really ruin games once you lose confidence in your ability to remain upright! It is supposed to be getting re-done at Christmas so I will wait and see.
In the meantime I think I will try some Vimto..let's face it, it's no use for anything else
John
November 3, 2016
12:32 pm

mhtl69
Forum Posts: 1
Member Since:
November 1, 2016

Offline

Forum Timezone:
Europe/London
Most Users Ever Online: 95
Currently Online:
9 Guest(s)
Currently Browsing this Page:
1 Guest(s)
Top Posters:
Matthew Seeley: 391
Peter Warman: 239
Ed: 186
Dobbie98: 165
gingerphil79: 158
Member Stats:
Guest Posters: 10
Members: 1422
Moderators: 2
Admins: 2
Forum Stats:
Groups: 2
Forums: 8
Topics: 580
Posts: 4713
Newest Members:
angie, reakmeyers, Suki210, magelarsen, Lukas_1
Moderators: LW Support: 0, Design: 0
Administrators: AngieS: 0, Paul Stewart: 1283