Hopefully everything will work smoothly for you – however, if there is something wrong, please take a moment to email us (forum@badminton-coach.co.uk) so that we can put it right !
 Please do not SPAM this forum – anyone found posting non-badminton related messages or ADVERTISING without permission will be removed without notice and may be banned from using the forum in the future.
Membership of this Badminton Discussion Forum is FREE
To join, just click the Register button just BELOW on the right.  Please note however that any strange email addresses (lots of random letters etc) with an obscure user name will be deleted.



Topic RSS
Carlton Vapour Trail Elite suitable for (older) relative novice?
January 27, 2017
5:45 pm

itm
Forum Posts: 1
Member Since:
January 27, 2017

Offline
I've just started playing again after 20 years, but was never a regular player. I've been using my old Yonex B-450 Low Torsion steel shaft racket, and have noticed that it is much heavier than my opponent's racket (a Yonex Voltric Cronus), so I was thinking of buying something lighter myself, as I find his racket much easier to play with. I'm 56 years old, not particularly fit and not physically that strong. I'd like to get more speed in my shots (ideally without too much extra effort!).
I've looking at the Yonex Voltric Cronus, but also noticed that I can get a Carlton Vapour Trail Elite for more-or-less the same price. The Carlton seems to be targeted at more experienced players, so I was wondering whether it would be suitable for an inexperienced (and older) player like me? Alternatively, what would be a better choice in that price bracket? (£40-50)
February 23, 2017
2:46 pm

EH
Forum Posts: 1
Member Since:
February 23, 2017

Offline
I have been in a similar situation, restarting play after a 20yr break, having played regularly in my (relative) youth. I restarted playing using my old racquets but after a while realised that modern technology had advanced after 20yr and decided to investigate and research the new options for myself.
My conclusions for what it is worth (and I class myself as no more than a modest club player level), is that:-
1/ It makes a difference whether you get a "head heavy", "head light" or "evenly balanced" racquet. Most if not all old racquets from 20yr ago will be classed as "head heavy" today. I did notice a marked difference in hitting agility when switching from my old head heavy racquet to a new generation head light racquet, especially in doubles play.
2/ Secondly, try out and take advantage of the 'new' flexible shafts and also 'isometric' racquet head shape ("larger sweet spot") to help an aging body to still deliver shots of adequate power from those awkward positions! I also found some of my old racquets' string tension to be too high for adequate feel — I used to play a faster game — so you may want to bear this in mind.
I think these are the major considerations and any racquet chosen along these lines regardless of brand will probably suit. Plus of course watching some coaching videos to remind yourself of what you knew once upon a time!
Regards.
February 23, 2017
4:01 pm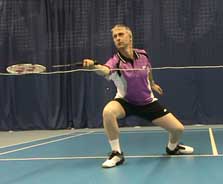 Paul Stewart
Cheshire, UK
Forum Posts: 1283
Member Since:
February 15, 2011

Offline
This is very good advice.
Pick a few rackets up and have a swing if you can. Depending where you live, there may be a place to demo rackets which makes life a lot easier.
It's best to select a racket that feels good to you, irrespective on who's using it.
I've written so many racket reviews and yet they are only a guide. There are so many bargains on the market at the moment so take your time .
Paul

Forum Timezone:
Europe/London
Most Users Ever Online: 196
Currently Online:
4 Guest(s)
Currently Browsing this Page:
1 Guest(s)
Top Posters:
Matthew Seeley: 391
Peter Warman: 239
Ed: 186
Dobbie98: 165
gingerphil79: 158
Member Stats:
Guest Posters: 10
Members: 1508
Moderators: 1
Admins: 2
Forum Stats:
Groups: 2
Forums: 8
Topics: 580
Posts: 4712
Newest Members:
poloplayer, Aron Roy, Michael Rathjen, stanjvincent@gmail.com, juanasgreene
Administrators: AngieS: 0, Paul Stewart: 1283