Hopefully everything will work smoothly for you – however, if there is something wrong, please take a moment to email us (forum@badminton-coach.co.uk) so that we can put it right !
 Please do not SPAM this forum – anyone found posting non-badminton related messages or ADVERTISING without permission will be removed without notice and may be banned from using the forum in the future.
Membership of this Badminton Discussion Forum is FREE
To join, just click the Register button just BELOW on the right.  Please note however that any strange email addresses (lots of random letters etc) with an obscure user name will be deleted.



Topic RSS
Nanospeed 4500 Vs Voltric 7
May 26, 2012
7:23 pm
RobHarrison
Forum Posts: 106
Member Since:
April 15, 2010

Offline
As there are a lot of questions on the forum regarding what racket to choose I thought I'd post my impressions of my new Voltric 7.
As you can see from the title I used to use a NS4500, this is a medium flex, head light racket. I only play doubles, mixed and levels, so I rate racket speed over anything else. I have previously tried using Armortec rackets and didn't like them, I found them too slow to use in fast flat rallies especially in men's doubles.
I comparison to the NS4500 the overall weight is exactly the same (bear in mind both rackets gripped to my preference) with the balance slightly more head heavy in the V7. To be honest, when holding them together I can't really tell much difference at all. The real difference is when you swing them.
The V7 is notably quicker through the air. If I swing both without hitting a shuttle the 'swoosh' noise is higher pitched with the V7, it feels faster. I was worried about the potential slowing of the racket in the search for power, but early indications were that I was going to get the best of both worlds.
This was immediately proved correct when I went on court. The combination of racket head speed and the extra weight meant my smashes had real venom in them, there was a very positive feel to the shots. A slightly unexpected bonus was that my sliced drops improved, the extra weight in the head meant that I could feel the shot more and so hit with more confidence and purpose.
The final thing I was interested to see about was Yonex's claim that the sound of the racket would be different and more aggressive. I was using a different string/tension combination to my NS4500 so I can't comment with absolute certainty on this, but I thought there was definitely a louder, more aggressive 'crack' when I hit my smash. This was confirmed by my mixed partner who commented on the noise it was making without knowing that it was supposed to sound different.
In conclusion, I think this racket is every bit as good as Paul rated it. It's fast and powerful with great control, the only downside for me is that I have lost the ability to clear smashes. I think this is mostly just me not timing them correctly with a new racket, but I will be doing my armchair exercises more frequently to ensure it is not a wrist power issue as well. I managed to get this racket for £45 on a deal as I spent over £100 on string (my new hobby) and for that price it's a ridiculously good racket.
If anyone has any questions please ask. I will be handing it to a friend who uses an Armortec 70 Mega G2 and will hopefully post his thoughts on it next week.

May 30, 2012
4:25 pm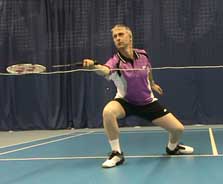 Paul Stewart
Cheshire, UK
Forum Posts: 1283
Member Since:
February 15, 2011

Offline
Rob
Many thanks for your words of wisdom here.
I feel there are too many players deferring to head light racquets when in fact they should be doing exactly what you did.
With regard to your current difficulty clearing from defence i have no doubt you will solve this. If not, you know where I am as I only live down the road from you.
I'm delighted you're getting into your stringing and over time you'll build a good level of knowledge and experience to pass on to players, ensuring they receive the correct advice. This has to be a good thing as too many players haven't a clue, and there are not enough good badminton stringers around.
Paul

Forum Timezone:
Europe/London
Most Users Ever Online: 196
Currently Online:
5 Guest(s)
Currently Browsing this Page:
1 Guest(s)
Top Posters:
Matthew Seeley: 391
Peter Warman: 239
Ed: 186
Dobbie98: 165
gingerphil79: 158
Member Stats:
Guest Posters: 10
Members: 1474
Moderators: 2
Admins: 2
Forum Stats:
Groups: 2
Forums: 8
Topics: 580
Posts: 4712
Newest Members:
fanfaron, Danielpbb, thanhle12345, puneeth, Ronald Jones
Moderators: LW Support: 0, Design: 0
Administrators: AngieS: 0, Paul Stewart: 1283