Hopefully everything will work smoothly for you – however, if there is something wrong, please take a moment to email us (forum@badminton-coach.co.uk) so that we can put it right !
 Please do not SPAM this forum – anyone found posting non-badminton related messages or ADVERTISING without permission will be removed without notice and may be banned from using the forum in the future.
Membership of this Badminton Discussion Forum is FREE
To join, just click the Register button just BELOW on the right.  Please note however that any strange email addresses (lots of random letters etc) with an obscure user name will be deleted.



Topic RSS
Racquet advice for a fast smasher?
November 25, 2016
10:08 pm

BadminTom3
Forum Posts: 3
Member Since:
November 25, 2016

Offline
Hello fellow badmintonners(is that a word?),
I recently started playing badminton again after having played for several years several years ago. I picked it up again instantly somehow, and find myself performing even better than before. Perhaps this is due to the fact I've been training a lot physically the last year as I'm a javelin thrower(well, in-the-making). I know people should generally try all the racquets, strings and grips that exist to find the one that suits them etc. etc., but #1 I haven't joined an official club yet and #2 life's too short to spend years finding what works. All I really need are some tips based on the information I can give you. I've done research on every aspect of badminton rackets, strings and whatnot, but am seeing a lot of conflicting and often obscure and/or confusing information. I'd really love to get into badminton as it's my #1 favourite thing to do. It'd be nice to see how far I can get, and playing itself is a blast on its own even if I don't make it professionally. Anyway, some things about me that might help in deducing what sort of racquet would fit me:
-I've been doing a lot of weight lifting the last year so I can handle some heavier rackets, though am unsure whether it would reduce my speed.
-I've always been very explosive and generally fast(can throw a ball 60 m+ with ease, or throw (at least, being modest)12 short punches in 1 second, which I've tested, though it's 6 per hand – not 12…).
-I'm Dutch and a bit taller than the majority of people(188 cm).
-I can smash fast(likely due to my explosive speed), and prefer to use this as much as I can when I play. So really I'd love to have a racket that allows me to fully use my speed + acceleration and focuses on smashes. This is most important as I really think smashing is my strength.
-I imagine I'll be playing with plastic shuttles some more until I join a club and get some technique though it'd be great if the gear was ready for competitions(so feather shuttles).
-I've had a chance to play for a while with the Yonex Voltric Z-Force II and could easily handle the shaft without problems.
-Here's also a short video which has a decent smash in it though it's definitely not near the hardest I can do and the technique might be a little weird as I've never had training. Still, whatever helps you guys help me 🙂 Oh yeah, I'm the guy in black shorts and dark grey t-shirt. Also, I was using that Z-Force II there with a BG 65 string at I think factory tension. https://www.youtube.com/watch?v=WTP5WsuvIbI
So I'd love to hear from you guys and gals what kinds of strings, grips and of course rackets you would recommend. It would be very much appreciated! If you need some more information that will help you with that please do ask.

December 14, 2016
9:12 am

gregbasa
Forum Posts: 3
Member Since:
December 14, 2016

Offline
I would suggest starting with asking yourself what you do not like about your current racket which is a top of the line yonex voltric. Paul has a nice guide on choosing rackets. However, if I'm being honest a racket matters less than perfecting the basics. Footwork, consistency, and mastery of shots are better than having a good racket. I play with a measly voltric 8 e-tune on doubles matches and could still give some club players a difficult time due to agility and shuttle control. BG65 strings at 22lbs tension. Yes, defense is tough due to the weight and frame of the racket but I just adapt and read the possible plays ahead of time to compensate. In the end I think less about what I'm holding but more of what I did wrong to lose that point. Never blame the racket.
December 14, 2016
1:54 pm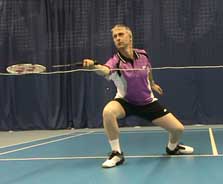 Paul Stewart
Cheshire, UK
Forum Posts: 1283
Member Since:
February 15, 2011

Offline
AS Greg rightly says, i created an article which is downloadable to help players like you find the right racket by asking the righ questions.
We are all different and therefore have different likes/dislikes in rackets. String choice and tension, grip set up and racket choice are all personal choice. A one size, fit's all approach does not work in badminton.
It's fine to ask others for this information but it doesn't mean the rcommendation will suit you.
Paul
December 15, 2016
5:09 pm

BadminTom3
Forum Posts: 3
Member Since:
November 25, 2016

Offline
Well that was worrying. Just posted a really detailed reply, but for some reason it didn't get posted even though it 'refreshed' the page after submitting the reply. Anyway here goes again(oh and I tried posting this second one but it didn't work again. luckily I had copied the text beforehand. I was able to post this by creating a post with 1 character, editing it, and saving it. might be useful to know this is happening as it can be frustrating).
Thanks guys for your replies.
I didn't really dislike the Z-Force II, and can get along fine with any racquet, but after all the research I've done in the meantime since my first post it does seem I can do much better.
I do understand that the player is the most important part of badminton, but having the right racquet for my fast reaction/swing speed capabilities would be a big improvement. Correct me if I'm wrong but improving technique will also go a lot smoother as you'll have optimal accuracy, power etc. with the right stiffness/weight etc. I do know technique training will make a much bigger difference than any racquet, but that takes time(who knows how long).
From the research I've done it seems that the faster you are, the stiffer the frame should be, along with a lower balance point to make the most of the swing speed and so it doesn't get held back by a high balance point. Lower overall weight racquets would be nice too as you'll be able to swing your fastest with a light racquet. Everyone is different, and has different strengths and weaknesses, and one of my strengths is being able to swing fast. Is it wrong to want to maximise that, or is there a point that swing speed becomes too high?
I've tried downloading that guide from you a few times Paul, but it never makes its way into my inbox, so I've given up. It does sound like it'd be really useful. Like I've said though I've done a lot of research in the meantime, even though it can often be obscure and/or conflicting, but based on what I've read, I've got my eyes on a few racquets. Instead of looking at every online shop I could, I've reduced my search to directbadminton.co.uk since they seem to test the flex, weight and balance point of most racquets they sell. This has been really useful. I've made a huge spreadsheet with all the racquets they sell, their properties and prices. In the end, I've reduced all the racquets to the following 5(edit: just noticed some links don't appear properly):
Yonex ArcSaber FD
http://www.directbadminton.co……white-red)?ProductID=24881
Yonex Voltric 1TR
http://www.directbadminton.co……ilver-red)?ProductID=24865
Victor Brave Sword 09N
http://www.directbadminton.co……ctID=21410
Victor Light Fighter 7500
http://www.directbadminton.co……ctID=25695
Victor Jet Speed 10
http://www.directbadminton.co……et-(4u-g5)?ProductID=21407
So there they are. Just really looking for confirmation and/or critique as to whether these are good options based on what I've said about myself in my original post. Any reason I should exclude any of these racquets, or include some not listed here?
I've also got another question about shaft flexibility. If the shaft is bent after impact like in these photos http://pho.to/AYp5h does that mean it's too flexible for my swing speed, that it has optimal flexibility or that it's too stiff? Something tells me it's the first one, as from my understanding it should flex forwards on impact, and straighten again right after impact. If that Z-Force II is too flexible, or has the right flex for me then the above 5 racquets were indeed good picks flex-wise.
Very much appreciated if you guys can assist with this(and any critique to my theories etc. would be very helpful, but I am in need of a racquet)!

December 18, 2016
11:13 am

gregbasa
Forum Posts: 3
Member Since:
December 14, 2016

Offline
In my personal experience, your swing speed could never be too fast for a racket as long as you got perfect timing and you get to the right position in front of the shuttle fast enough to produce a good hit.
I cannot confirm nor deny the results of your research as I judge my racket selection after asking myself some questions that paul suggested and testing what feels right.
I switched to the Victor Jetspeed S10 after I first replied to you to see if it feels better on a men's doubles game. Compared to my voltric 8, the JS10 has a better overall feel. The weight, balance, and speed felt right for me. I saw my improvement in a way that shots, that I usually put a lot of effort on, feels a bit more natural. But again that is just me.
The JS10, however, is not a very forgiving racket. You may have the swing speed or strength but this racket requires you to be in good form due to a smaller, more concentrated sweet spot. If you are only banking on your swing speed and strength, then it may disappoint you. In my experience, the moment I lose awareness even for a second of all the important aspects of the game then I'd either miss the shot, produce an ugly return, or hit the shuttle with the frame. I could usually get away with being lazy on my voltric 8 but not with the JS10.
Mine is a 4UG5, strung at 22lbs with bg80.
Goodluck in choosing a racket!
January 2, 2017
10:19 am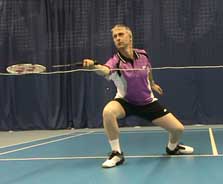 Paul Stewart
Cheshire, UK
Forum Posts: 1283
Member Since:
February 15, 2011

Offline
If you can swing a racket really fast then there is no point looking at head heavy rackets. Yes, I agree that stiffer frames may suit you better but that doesn't always follow.
I would forget the super-light frames such as FB or Lightfighter. They do not have sufficient substance for the strength you can potentially weild. Jetspeed 10, Nanoray 900, Arcsaber 11, Duora 10 may be better rackets for you. They should all be able to cope with your swing speed and deliver good power and also great reflexes for defence.
Good luck

Forum Timezone:
Europe/London
Most Users Ever Online: 196
Currently Online:
3 Guest(s)
Currently Browsing this Page:
1 Guest(s)
Top Posters:
Matthew Seeley: 391
Peter Warman: 239
Ed: 186
Dobbie98: 165
gingerphil79: 158
Member Stats:
Guest Posters: 10
Members: 1508
Moderators: 1
Admins: 2
Forum Stats:
Groups: 2
Forums: 8
Topics: 580
Posts: 4712
Newest Members:
poloplayer, Aron Roy, Michael Rathjen, stanjvincent@gmail.com, juanasgreene
Administrators: AngieS: 0, Paul Stewart: 1283