Hopefully everything will work smoothly for you – however, if there is something wrong, please take a moment to email us (forum@badminton-coach.co.uk) so that we can put it right !
 Please do not SPAM this forum – anyone found posting non-badminton related messages or ADVERTISING without permission will be removed without notice and may be banned from using the forum in the future.
Membership of this Badminton Discussion Forum is FREE
To join, just click the Register button just BELOW on the right.  Please note however that any strange email addresses (lots of random letters etc) with an obscure user name will be deleted.



Topic RSS
Stringing Newbie - Heres my summary - Who's experienced and can review / advise me.
March 30, 2015
12:49 am

dfh101
Forum Posts: 2
Member Since:
March 24, 2015

Offline
Started 3 months ago, have done 21 rackets including 7 of my own. Not fully confident yet.
Only buying strings in single packets, Yonex Strings roughly cost £3.50 a packet from ebay UK in batches of 6. Ashaway strings from MBS Hong Kong roughly £3.80 a packet, Delivery time 8-9 days normally to UK.
Strings I use :
Yonex – BG65, BG65ti, BG66 Ultimax, Nanogy 98.
Ashaway – Zymax 70, Zymax 66 Firepower .
Prices charged currently, (Done the first 10 for £5 each)
Kids – Normally BG65ti if wanting white, Zymax 70 if wanting yellow @ £10
Adults – Choice of any string / colour @ £12
This is my starting equipment, Cost so far £210. Will look at a better machine when this one has paid for itself and I deem that I can do it longer term after a successful probationary/learning period and building up a reputation.
Pro's Pro Shuttle Express, Manual Crank Spring Machine
3 x Pro's Pro Flying Clamps
1 x Pros Pro Starting Clamp
2 x MBS load spreaders
1 x String Puller
1 x Pliers
1 x Bent Nose Pliers
1 x Stanley Knife
1 x Pair Scissors
1 x Small Snips
1 x Nail Clippers
1 x Awl, Never used it unsure of purpose, came with machine.
Pre Stringing Procedure :
Check racket for cracks / damage.
Check for stringing pattern, make a note of existing shared holes and tie off points, Make of note of snapped, log on database for each client.
Cut string to 2 equal 5m lengths.
Mount racket on machine.
All 2 piece stringing, strings are pulled 3 times to stretch and clamped on the third pull. In the order string – pull – clamp. Tension increased by 2lbs for crosses.
Mains
Start stringing mains from top, put in 4 rows, two each side,
Starting on the left side, Tighten the 2nd row, feed and tighten row 3 & 4 individually.
Starting the right side Tighten the 2nd row, feed and tighten row 3 & 4 individually.
Return to the left side, finish rows 5+ and tie off, snip with nail clippers.
Return to the right side, finish rows 5+ and tie off, snip with nail clippers.
Crosses
Starting on the left side, tie off as per spec and start weaving 1st row at 8th or 9th throat, start tension on 2nd row, weave to end, tie off at top as per spec.
Average time – 2 Hours, Fast on mains, slower on crosses especially near the top
Questions & Advices Sought
Should I have any other equipment or keep any other strings.
Recommended string and tension for kids up to 12, playing with both yonex as20/30 and yonex mavis 2000 plastics, Durability more important as don't want to be stringing a lot due to cost.
How many knots is optimal at tie off.
How to minimise loss off tension in the last string before all tie off's, feel this is not very good and could be a lot better.
How to move strings on the outside of the racket at the 10 o'clock and 2 o'clock positions which completely block the holes when doing crosses, Have had 2 snaps when trying to move them. Mainly with my sons Karakal BN60 even at 20lbs they will not budge.
Recommend a wider clamp as on some rackets (Mainly Yonex) the strings are pulled together a lot as the pro's pro clamps are not wide enough, Have lost a string near the end when its snapped when clamp applied (24lbs mains, 26lbs crosses).
When clamping crosses is it better to have the clamp nearer the middle of the row or as close to the end as possible.
Have been asked about repairing a single string, is this recommended / worthwhile / possible.
How to stop string movement, is this the string used , the stringing technique, uneven tension or the players style.
General tips to speed up process, make the stringing better.
Should I offer a guarantee of some sort, excluding miss hits etc.
Is getting ink and stencils worthwhile.
Thanks
dfh101

March 31, 2015
10:25 pm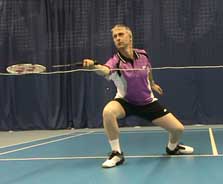 Paul Stewart
Cheshire, UK
Forum Posts: 1283
Member Since:
February 15, 2011

Offline
Derek
You have so many questions here I could spend some time answering. It may be better to contact me and we can set up a telephone conversation if it helps?
Are you starting your crosses from the top or bottom?
Let's answer a few questions for you as this may help…It's a shame you couldn't attend the badminton stringers course recently held at Milton Keynes as I'm sure we would have answered all of your questions on the day. i was one of the tutors.
Recommended tension for kids aged 10 – At this age, if they are using feathers, then 18 lbs is considered pretty high although this may be dictated by their standard. If they play with plastics then 17lbs should be enough. This may depend on string choice as some strings move more than others. That said, it should be sufficient.
You should clamp as close to the frame as you can when tensioning your crosses.
You can only really do single string repairs on older frames where the grommet holes are larger. Trying to repair a racket with the standard single grommets is simply not worthwhile or feasible.
I always stencil a racket with the manufacturers stencil if i can. I believe it looks professional. It's so much nicer returning a racket that looks brand new again, or as good as can be.
The other area I'm really fussy about is grommets. I use a magnifying glass to check all grommets and replace any that are split or showing excessive wear either on the inside or outside of the frame. It's amazing how many strings break because of poor grommet replacement.
I use loops which solves the problem of blocked holes. they are simple to install and do an excellent job.
Overall, you have the kit. Be careful on pricing. I understand you are offering good rates as you are learning but it' harder to increase your prices.
I hope this helps but you can always contact me for further information.
Paul

Forum Timezone:
Europe/London
Most Users Ever Online: 196
Currently Online:
6 Guest(s)
Currently Browsing this Page:
1 Guest(s)
Top Posters:
Matthew Seeley: 391
Peter Warman: 239
Ed: 186
Dobbie98: 165
gingerphil79: 158
Member Stats:
Guest Posters: 10
Members: 1510
Moderators: 1
Admins: 2
Forum Stats:
Groups: 2
Forums: 8
Topics: 580
Posts: 4712
Newest Members:
nbaby, a_grimshaw@yahoo.com, poloplayer, Aron Roy, Michael Rathjen
Administrators: AngieS: 0, Paul Stewart: 1283