Hopefully everything will work smoothly for you – however, if there is something wrong, please take a moment to email us (forum@badminton-coach.co.uk) so that we can put it right !
 Please do not SPAM this forum – anyone found posting non-badminton related messages or ADVERTISING without permission will be removed without notice and may be banned from using the forum in the future.
Membership of this Badminton Discussion Forum is FREE
To join, just click the Register button just BELOW on the right.  Please note however that any strange email addresses (lots of random letters etc) with an obscure user name will be deleted.



Topic RSS
Best Racket
July 16, 2013
5:45 pm

Dobbie98
Members
VIP Coaching Program Members
Forum Posts: 165
Member Since:
December 4, 2010

Offline
July 16, 2013
7:14 pm
RobHarrison
Forum Posts: 106
Member Since:
April 15, 2010

Offline
July 16, 2013
8:22 pm
John
Southampton
Forum Posts: 76
Member Since:
December 31, 2011

Offline
I currently play with an Arcsaber 11; absolutely love it. Got it strung with BG80 at 26lbs. My back up racket is a Nanoray 700FX which, in my opinion, is another great racquet – again, BG80 at 24lbs. I also have a Carlton Air Stream if things go really pear shaped – that has Zymax 70 at 24lbs. Don't want to break any of them as I can't afford to replace them!!
July 16, 2013
8:34 pm

Matthew Seeley
Members
VIP Coaching Program Members
Forum Posts: 391
Member Since:
August 12, 2010

Offline
I like my Voltric ZF, strung very tight with BG66UM (I pull it at 30 lbs, probably a lot less than that – my machine is not great).
Other than that, my carlton Airblade Rasmussen Titanium is one of my favourites (RRP is about £40 🙂 ). I like my 8dx too, but this is normally my "supersub" racket if I break my VTZF.
I enjoy using most rackets, but try to sticfk to my VTZF – I find defence and drives with that thing are monstrous!
July 16, 2013
10:15 pm

Elisha
Forum Posts: 16
Member Since:
March 12, 2013

Offline
July 17, 2013
3:23 pm

Dobbie98
Members
VIP Coaching Program Members
Forum Posts: 165
Member Since:
December 4, 2010

Offline
I guess the best over all & all round racket I have played with is the Voltric 80.
My other rackets in my bag is the Voltric Z Force great attacking racket, but I'm not so good defensively with thiss racket. (Re ZF like Matt said you can out drive anyone with this racket! I love the expression on some people's face when it's returned quicker into there shoulder or pocket of shorts/ skirt)
My newest racket is the Bravesword 12, very quick defensively & great around the net. Going to be adding some weight as miss the head heavy affect when smashing & clearing.
So I now gauge who I'm playing as to what racket I use, whilst in pursuit of my ultimate racket.
July 18, 2013
7:38 pm
Roger
West Midlands UK
Forum Posts: 147
Member Since:
March 10, 2013

Offline
I wouldn't say that this is the best racket I've played with but it's certainly got a place in my heart.
Carlton 3.7x let me say that again Carlton   3   .    7    x.
The younger members will think that I've made it up or reverted to speaking in tongues. But let me tell you back in the day this was the biz.
Just the mention of this icon makes players of a certain age go all misty eyed and reach for a "What ever happened to the likely lads" box set. If you're reading this abroad think "Happy Days"
Yes it had all the fineness of a bin lid on a stick.
Yes it's built in design fault meant the head would fly off like a decapitating  metal Frisbee
Yes I know that if you search Google Images the hit is "ancient rackets" Ouch !!!
But as Paul will agree. Yes he really is that young. Everybody played with it because there was nothing else.
 As a consequence, no one could blame their racket.That's refreshing.
As they say, you never forget your first.
t
9
But it was my first racket and as we all know you never forget your first.
I grew up playing with Prince rackets (when they used to have the 'Y' head shape) as my coach was sponsored by them. Absolutely adored my TT Attitude, although I cracked a fair few frames just from smashes. 
Currently, I love my Yonex Voltric 70, although this is soon to be replaced by a Victor racket (which one I haven't yet decided). 
July 22, 2013
11:40 pm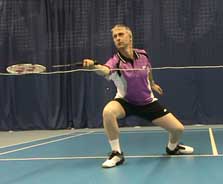 Paul Stewart
Cheshire, UK
Forum Posts: 1283
Member Since:
February 15, 2011

Offline
Roger
Yes I remember Carlton 3.7X and you are right, everybody had them. Either that or Carlton 3.7. At that time you could only get Yonex B8100? which was all steel, albeit very thin shaft.
Then Yonex brought out Carbonex 7 and Carbonex 8. Carlton responded with 3.7S.
The game was played differently then. It was chess on court rather than the power game of today. Players had court craft, something the younger players will not know much about. However, even today, if you play an opponent who has court craft then you're in for a run.
As Roger will confirm, the only reason you needed two rackets in those days was because you were likely to break a string as they were made of real gut or thick synthetic. We didn't have .66 gauge string that would take 30lbs tension in those days.
Also, shuttles lasted longer and RSL were the top brand – made in England. The All Englands was the John PLayer All Englands and played at Wembley. Good days all around then with so much talent on court.
Paul

Forum Timezone:
Europe/London
Most Users Ever Online: 196
Currently Online:
3 Guest(s)
Currently Browsing this Page:
1 Guest(s)
Top Posters:
Matthew Seeley: 391
Peter Warman: 239
Ed: 186
Dobbie98: 165
gingerphil79: 158
Member Stats:
Guest Posters: 10
Members: 1458
Moderators: 2
Admins: 2
Forum Stats:
Groups: 2
Forums: 8
Topics: 580
Posts: 4711
Newest Members:
Andyjd5507, thlong, angeleena, MatiasMyles, jim_1
Moderators: LW Support: 0, Design: 0
Administrators: AngieS: 0, Paul Stewart: 1283