Hopefully everything will work smoothly for you – however, if there is something wrong, please take a moment to email us (forum@badminton-coach.co.uk) so that we can put it right !
 Please do not SPAM this forum – anyone found posting non-badminton related messages or ADVERTISING without permission will be removed without notice and may be banned from using the forum in the future.
Membership of this Badminton Discussion Forum is FREE
To join, just click the Register button just BELOW on the right.  Please note however that any strange email addresses (lots of random letters etc) with an obscure user name will be deleted.


Topic RSS
Court Time Practice, how to keep everyone happy?
July 17, 2013
3:45 pm
Roger
West Midlands UK
Forum Posts: 147
Member Since:
March 10, 2013

Offline
Just out of the cranberry fog. Thanks for the concern Pete.
Some really well thought out replies to this post.
Just a couple of observations. For any system of allocating court time to work it has to be sold to the club members.
With 30 plus years of playing at various clubs, league and non league, I feel that any system has to rely on the honesty and integrity of the members. And, as I think we all know,this is where the problems are.
We all know players that have no sense of fairness and just want to turn up and do whatever it takes to have a whole session of "good" games.Often these players look on themselves as "too good" for most of the other players and can only get away with their bad behaviour because teams do not want to loose them.
This type of player certainly fits into Paul's "only out for what they can get" category. So what to do. Warn them and if they persist boot them out!!! Far better a happy open club  than one that will do anything, and stop at nothing in the name of success.
Your not going to please everybody all of the time but the best clubs that I know promote dialogue and some compromise between the members. Remember everybody pays the same subs so everyone should have an equal voice. 
Sorry if this sounds like a rant but I've seen selfish players send too many clubs down the pan.
One final thing. Pete made an appeal for more Forum Members to join in. I know that Paul and the usual contributors wholeheartedly agree. Even if your contribution is only one line it's just as valid as anyone else's.
July 18, 2013
2:14 pm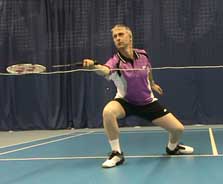 Paul Stewart
Cheshire, UK
Forum Posts: 1283
Member Since:
February 15, 2011

Offline
Roger
Thanks for your comments and your request for more members to join in the discussion.
At one time I considered removing the forum from my website. However, I realise that it has an important part to play, even if there are few contributors. I wouldn't mind if forum members ask questions and allow the regulars to have their say.
At the moment I barely make time to contribute to the forum, nevermind write articles and racquet reviews. I have a long list of things I need to do, but haven't the time to get them all done. However, as the saying goes "Rome wasn't built in a day."
I read every forum post as they are posted and before I comment so I know what's happening. Occasionally I get a reminder from Pete that somebody is flaunting the forum rules and trying to advertise – which then is either edited by me or deleted.
I went to a club on Monday and have to say it was nice that the better players mixed in with everyone. Yes, they got their share of "decent games" with the top four together but they didn't stick together all night.
With playing so little I don't consider myself one of the better players. I see the shuttle too late these days and the legs are simply not fast enough to respond because I don't have time to get fit. But I had a good night and for me it's like having a day off work, just relaxing not passing on any tips to players and enjoying the badminton.
We all play for enjoyment and it's a shame that at times, some players are so wrapped up in their own world they fail to see their actions have a detrimental effect on others.
I've always believed in giving before you get and this mentality has always ensured I enjoy my badminton.
Paul
Hi
It's been very interesting reading the various replies, and though the issue is troubling, I draw
strength from the fact that our club is not so different from any other club and that were not
doing anything wrong as such. Looking back in our club archive, the AGM notes of the late 60's
& early 70's right through to today have the same old same old grumbles, issues & disputes. The
names may change but not the substance of the complaint, which just goes to show that the adage
'You can please some of the people some of the time, but you can't please all of the people all of
the time'
Having a hard & fast rule stating you must pick from the next 7 players down works 90% of the time,
however given the huge disparity between our 1st team & 5th team it can't work 100% of the time.
Members at both ends of the spectrum need to understand the needs of the other, without overly compromising
there own needs. Where common sense fails then the Committee members must provide it & explain why/what
there doing-often the ones doing the complaining are those not taking a active part in how a club is run. They
almost expect it should be run just for them and not for the wider need of the club.
Forum Timezone:
Europe/London
Most Users Ever Online: 196
Currently Online:
7 Guest(s)
Currently Browsing this Page:
1 Guest(s)
Top Posters:
Matthew Seeley: 391
Peter Warman: 239
Ed: 186
Dobbie98: 165
gingerphil79: 158
Member Stats:
Guest Posters: 10
Members: 1458
Moderators: 2
Admins: 2
Forum Stats:
Groups: 2
Forums: 8
Topics: 580
Posts: 4711
Newest Members:
Andyjd5507, thlong, angeleena, MatiasMyles, jim_1
Moderators: LW Support: 0, Design: 0
Administrators: AngieS: 0, Paul Stewart: 1283