Hopefully everything will work smoothly for you – however, if there is something wrong, please take a moment to email us (forum@badminton-coach.co.uk) so that we can put it right !
 Please do not SPAM this forum – anyone found posting non-badminton related messages or ADVERTISING without permission will be removed without notice and may be banned from using the forum in the future.
Membership of this Badminton Discussion Forum is FREE
To join, just click the Register button just BELOW on the right.  Please note however that any strange email addresses (lots of random letters etc) with an obscure user name will be deleted.



Topic RSS
Forhand Clear - how to get power?
October 18, 2013
2:00 pm

Phil.Oxford
Basingstoke
Forum Posts: 4
Member Since:
June 10, 2013

Offline
Hi guys
I'm a grass roots BE Level 2 coach but I have a couple of 13 yr old girls who struggle to clear to any length.  We've worked on arm extension, grip, side stance etc but, naturally, they're not good throwers!  We've experimented with "throwing rockets" etc.  Anyone know of a good tip(s) for helping generate power in a FH OH clear? The left hander in particular tends to follow though on the racket side, rather than completing across the leg.
October 19, 2013
2:40 pm

Matthew Seeley
Members
VIP Coaching Program Members
Forum Posts: 391
Member Since:
August 12, 2010

Offline
Sounds like a job for… RACKET HEAD COVERS! What do you think Paul?
I would say that the most important thing, with players starting to learn to play their shots (especially younger players) is to learn to hit with a nice crisp and uncomplicated hitting action, being very relaxed and not worrying about power. Focus ONLY on the last part of the stroke – the final use of the forearm/wrist/fingers. This will help to teach the timing for the shot, rather than worrying about power. To be honest, the way the player follows through and how much body power they use is unlikely to make much of a difference! The main thing to get right is how to unload the power you have into a crisp hitting action! Focus on the point of contact, rather than how the rest of it looks!
I will let Paul talk about the details… but I think practicing using a racket head cover would help your players to get it right.
As a simple way of teaching the stroke, I particularly like this video:
The most important thing when teaching these shots to new players is not to focus too much on how far it goes, but on doing it right!
I know a coach who gets excellent results, and the first shot she teaches is a fast relaxed drop shot (using a simple tapping motion of the wrist/forearm/fingers) just letting the racket flop over the top and hit the shuttle down. This basic shot doesn't have the same "negative" effect for players who struggle with power – it doesn't matter how hard you hit, you just need to hit it right! But once you have learnt the basics of the shot, you then have the technique for a clear or smash or slower drop!
Good luck!
October 20, 2013
11:45 am

Matthew Seeley
Members
VIP Coaching Program Members
Forum Posts: 391
Member Since:
August 12, 2010

Offline
Yes – that is basically the correct grip for holding a racket for overhead forehand shots. When you hit the shuttle, you will change from a loose and relaxed grip to a slightly squeezed "firm" grip, to ensure the racket does not fly out of your hand, and also to help add a little power to your stroke. However – for a beginner, don't even think about this sort of stuff. Just use the correct grip, and try to get a nice relaxed high contact.
Finally – no, back pain is not normal. I suggest you may need to check your contact point – are you far enough behind the shuttle? Or are you arching your back in order to play the shot. The player in the video above is a high level (national) player, and can play to an almost professional standard.
October 21, 2013
11:31 am
Roger
West Midlands UK
Forum Posts: 147
Member Since:
March 10, 2013

Offline
Sound advise from Matt as usual and a great video.
Using a shuttle on a pole or hanging from basketball rings is a really good method of teaching players to reach up for any overhead shots.
One thing that I have found useful to ensure that the elbow is facing forward is for the players to touch lightly between the shoulder blades with the edge of the racket head. If they do this then the rest of the arm and wrist naturally falls into place. I'm with Matt on the importance of how to follow through and leave it to the natural swing of the players.
Don't forget that it's better to get your players hitting shots with a faster swing rather than trying to hit harder.
I also use attainable  targets on court to give a sense of achievement, very important with young players.
Lastly I have seen top women players gripping the rackets at the lowest possible point on the handle to give more leverage on OH power shots.This is could help BUT, players have to be proficient at grip changes.
October 22, 2013
10:59 pm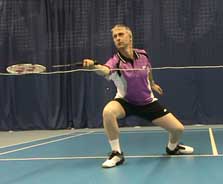 Paul Stewart
Cheshire, UK
Forum Posts: 1283
Member Since:
February 15, 2011

Offline
Phil – email me and I'll help you out.
I have been doing extensive testing for some time and can reveal that the methods we use at Lilleshall have, without doubt yielded the best results I have ever seen. No doubt Matt will testify to this as he's been with me at the time.
What I have basically done is reverse the sequence before building it and therefore teaching from just before impact and then working backwards. I've got some more work to do on this and believe I nailed the mid-way step to add into the mix for 2014.
We had a left-handed girl on our last course who hit pan handle and bent arm – classic bad technique. Within half an hour, and I mean half an hour without exagerration she was booming shuttles on the floor with a change in grip and extended arm. I've never seen anything like that in my 25 years coaching.
Paul

Forum Timezone:
Europe/London
Most Users Ever Online: 196
Currently Online:
2 Guest(s)
Currently Browsing this Page:
1 Guest(s)
Top Posters:
Matthew Seeley: 391
Peter Warman: 239
Ed: 186
Dobbie98: 165
gingerphil79: 158
Member Stats:
Guest Posters: 10
Members: 1458
Moderators: 2
Admins: 2
Forum Stats:
Groups: 2
Forums: 8
Topics: 580
Posts: 4711
Newest Members:
Andyjd5507, thlong, angeleena, MatiasMyles, jim_1
Moderators: LW Support: 0, Design: 0
Administrators: AngieS: 0, Paul Stewart: 1283