Hopefully everything will work smoothly for you – however, if there is something wrong, please take a moment to email us (forum@badminton-coach.co.uk) so that we can put it right !
 Please do not SPAM this forum – anyone found posting non-badminton related messages or ADVERTISING without permission will be removed without notice and may be banned from using the forum in the future.
Membership of this Badminton Discussion Forum is FREE
To join, just click the Register button just BELOW on the right.  Please note however that any strange email addresses (lots of random letters etc) with an obscure user name will be deleted.


Topic RSS
How Much Coaching Do We Need
July 13, 2013
11:05 pm

Matthew Seeley
Members
VIP Coaching Program Members
Forum Posts: 391
Member Since:
August 12, 2010

Offline
Couldn't agree more with the above! It has been such a privilege to attend a dedicated coaching weekend with so many eager and willing participants (plus the awesome coaching team 🙂 ). In general, amongst the coaches, we can't believe the progress we see! I am not talking 2 whole days, but just the difference we see after an hour or two on a topic. The participants really do give it their all, and reap the rewards! A privilege to be a part of it!
I think the overhead preparation session we did with the advanced group at the last advanced weekend (a while back now) was one of the most interesting things I have seen. I am sure that there were at least a couple of "advanced" players who started that session thinking "this is beneath me". However, by the end of it, every single one of the players agreed that the consistency of their shots had improved, and instead of hitting every shot "well", they hit every shot with increased accuracy, consistency and power. I seem to remember that almost every single player from that session highlighted that session as the highlight of their whole weekend.
I think the great thing about a dedicated block of time to learn and practice is that you quickly realise how good you could be, if you were to practice with intent more regularly. As an example, I played a tournament recently. I played a few matches a day across saturday and sunday, with the occasional chance to knock up in between matches. By the final match after two days, I was moving faster than ever before, hitting shots harder and with more accuracy than I thought possible, and nearly won the mixed doubles, losing narrowly at the last hurdle to a Hampshire County 1st player – something I thought beyond me as I had to beat many good county players to get that far. And all of this, simply because I was immersed in the badminton and practice for longer than normal, and I was trying to compete rather than just enjoy a social session.
I like this topic 🙂
July 14, 2013
3:23 pm
John
Southampton
Forum Posts: 76
Member Since:
December 31, 2011

Offline
As I previously said I am all up for longer coaching sessions! Just a case of financial constraints. Obviously the great advantage is that all of the people want to be there and have paid their own hard earned cash – two really good motivators!!
The other great thing is that even people like Paul are still coming up with new and innovative ways to coach – feels me with enthusiasm as I start out on the road to my level 2 badge. Well done everyone – a great thread.
Regards
John
July 17, 2013
7:02 pm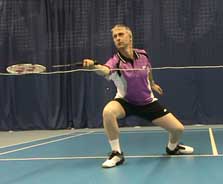 Paul Stewart
Cheshire, UK
Forum Posts: 1283
Member Since:
February 15, 2011

Offline
The day I stop learning in this game is the day I quit.
I had very little coaching as a boy and therefore it's my self-discovery that makes me a better player in terms of striking the shuttle better. And, I'm still not happy. I beleive there is a way that us ordinary folks can hit the shuttle harder. This is my Holy Grail and the last 12 months has seen significant development in terms of getting there.
The next piece of the jigsaw will be introduced to the advanced group in September and again to the intermediate group in October. It's working well in my private coaching so I'm ready to take this further.
John, you are welcome to call my anytime to discuss coaching, drills ideas as are all the other coaches on this forum.
Paul
Forum Timezone:
Europe/London
Most Users Ever Online: 196
Currently Online:
2 Guest(s)
Currently Browsing this Page:
1 Guest(s)
Top Posters:
Matthew Seeley: 391
Peter Warman: 239
Ed: 186
Dobbie98: 165
gingerphil79: 158
Member Stats:
Guest Posters: 10
Members: 1458
Moderators: 2
Admins: 2
Forum Stats:
Groups: 2
Forums: 8
Topics: 580
Posts: 4711
Newest Members:
Andyjd5507, thlong, angeleena, MatiasMyles, jim_1
Moderators: LW Support: 0, Design: 0
Administrators: AngieS: 0, Paul Stewart: 1283