Hopefully everything will work smoothly for you – however, if there is something wrong, please take a moment to email us (forum@badminton-coach.co.uk) so that we can put it right !
 Please do not SPAM this forum – anyone found posting non-badminton related messages or ADVERTISING without permission will be removed without notice and may be banned from using the forum in the future.
Membership of this Badminton Discussion Forum is FREE
To join, just click the Register button just BELOW on the right.  Please note however that any strange email addresses (lots of random letters etc) with an obscure user name will be deleted.



Topic RSS
Sporting Conduct
August 20, 2013
2:19 pm

Peter Warman
United Kingdom
Forum Posts: 239
Member Since:
May 25, 2010

Offline
Hi all, didn't know where to put this, we could really do with another category for "other" badminton stuff.
Anyway, my brother sent me this awhile back, some of you may have seen or heard about it already, but I hadn't. And boy, it makes me chuckle, such maddness, in a FINAL as well!
Might try this tactic on match nights, and then when I play them for the next match, they will all be running scared! (I'm joking obviously!)
Anyway, enjoy!
Pete  

Badminton Gives Me A Purpose In Life – To Serve Others
I'd Rather Be Playing Badminton…………..
August 20, 2013
8:58 pm
RobHarrison
Forum Posts: 106
Member Since:
April 15, 2010

Offline
August 20, 2013
11:35 pm
Roger
West Midlands UK
Forum Posts: 147
Member Since:
March 10, 2013

Offline
Great youtube footage but good for our sport,I don't think so.
Like most of us I watched this with a mixture of real amusement and incredulity that top players would behave like this. This is an extreme case,I know, but I have to say that watching top international matches lately I feel that top players are really pushing the rules.
A particular area where this is apparent is time wasting between serves. Boe and Mogensen really bought this to a new level in the recent world championships and. disappointingly, the officials let them get away with it. I always like to see Europeans do well at international level as they seem to be the underdogs these days but when the Danes lost in the final I found it very difficult to feel sorry for them.    
August 21, 2013
1:29 pm

Matthew Seeley
Members
VIP Coaching Program Members
Forum Posts: 391
Member Since:
August 12, 2010

Offline
I agree with you rogerh – Boe and Mogensen, whilst good players, SEEM to use more psychology/sportsmanship than I am comfortable with seeing. Contrast this with Ashan and Setiawan, who have simply played excellent mens doubles! They deserved to win! A shame that Fu and Cai couldn't win one more tournament though.
August 23, 2013
11:05 pm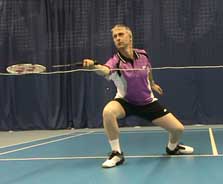 Paul Stewart
Cheshire, UK
Forum Posts: 1283
Member Since:
February 15, 2011

Offline
As much as I admire Boe and Mogensen I have no time for their tactics. To waste time, disrupt their opponents serve tempo, give them the evil stare as if to say "how dare you do that to us" is in my book despicable.
Not putting too finer point on it there are a number of people to blame for this outside of the players themselves. First off, coaches and team managers should have nipped this in the bud years ago. Secondly, umpires and judges should have laid down the law. But i think they are getting soft.
Call me cynical but there are two major influencers in World Badminton Federation and both are…Danish. Both these players were amazing and maybe there have been words. However my guess is that they turn a blind eye.
It's not pretty, it's not how to train younger players and I certainly do not recommend any match for youngsters to watch where they appear.
Paul
August 24, 2013
2:17 pm

Dobbie98
Members
VIP Coaching Program Members
Forum Posts: 165
Member Since:
December 4, 2010

Offline
August 24, 2013
3:14 pm

Ed
Forum Posts: 186
Member Since:
March 2, 2010

Offline
Hmm, very tricky subject. I agree with all of you. I too find it hard the time the Danes take to serve (on some occasions it's really beyond proper playing). But, same thing as on the OG in London, Paul is right. I cannot blame the players, the coaches need to pin this down. Period. That's what they are there for, and are payed for. Same as serving above the waste. How many times have they (not only Boe, others as well) looked disappointed, nearly dying, to the service judge, and then looking like a labrador towards the umpire, because a service fault was called. Some coaches really don't get it, so it looks. Umpires need to be consequent.
The Canada Open hassle, it hurt my eyes. On the very same day it happened, it was already on our private FB page of our club. But, look at the matches where Bodin and Maneepong were still playing together, in some of them Bodin really had it hard to control his temper and the umpire urged him to calm down. When they broke up, sad thing, I really thought they were a pair who could make it. But to be honest, I wouldn't like to play with a guy with such a temper either.
I just hope this (yet another incident) doesn't place our beloved sport into a corner it really doesn't deserve.
All the best, ED
August 24, 2013
3:25 pm

Matthew Seeley
Members
VIP Coaching Program Members
Forum Posts: 391
Member Since:
August 12, 2010

Offline
Dobbie – I don't think they need a break or a breather. I honestly think they just aren't technically good enough during rallies to win long rallies. Imagine Boe/Mogensen playing their best, and compare to Fu/Cai or Ashan/Setiawan playing their best. There is simply no comparison. So, instead, they have developed tactics to disrupt the rhythm of their opponents, by keeping rallies short (which is very skillful) and disrupting service routines (which is not). By disrupting that rhythm, they ensure that their opponents cannot play their best, and as such the game is more even. The young asian pairs like to play fast – so Boe/Mogensen have to play slowly – its as simple as that!
Compare this, instead, to Lars Paaske and Jonas Rasmussen. They were in the same situation – their "best" is not going to be able to compete, in terms of pure aggression and defence, compared to the younger asian players. The difference here though, is that, instead of trying to disrupt the rhythm of their opponents, they instead employed tremendous tactics to take away their opponents strengths. They used shot placement and general tactics to limit their opponents, thus stopping them playing to their strengths.

Forum Timezone:
Europe/London
Most Users Ever Online: 196
Currently Online:
2 Guest(s)
Currently Browsing this Page:
1 Guest(s)
Top Posters:
Matthew Seeley: 391
Peter Warman: 239
Ed: 186
Dobbie98: 165
gingerphil79: 158
Member Stats:
Guest Posters: 10
Members: 1458
Moderators: 2
Admins: 2
Forum Stats:
Groups: 2
Forums: 8
Topics: 580
Posts: 4711
Newest Members:
Andyjd5507, thlong, angeleena, MatiasMyles, jim_1
Moderators: LW Support: 0, Design: 0
Administrators: AngieS: 0, Paul Stewart: 1283