Hopefully everything will work smoothly for you – however, if there is something wrong, please take a moment to email us (forum@badminton-coach.co.uk) so that we can put it right !
 Please do not SPAM this forum – anyone found posting non-badminton related messages or ADVERTISING without permission will be removed without notice and may be banned from using the forum in the future.
Membership of this Badminton Discussion Forum is FREE
To join, just click the Register button just BELOW on the right.  Please note however that any strange email addresses (lots of random letters etc) with an obscure user name will be deleted.



Topic RSS
Players / Partners playing at different tempo during a match
October 19, 2014
8:51 am

Dobbie98
Members
VIP Coaching Program Members
Forum Posts: 165
Member Since:
December 4, 2010

Offline
Hello Forum,
I have a new men's double partner (who is experienced) this season & after a lot of thought was wondering if one player, myself likes playing a faster aggressive game & my partner plays a more laid back slower game. Would this be detrimental to our side?
The other reason we are losing is he keeps lifting then can't defend the smash.
Would like to hear your thoughts please.
October 20, 2014
12:10 am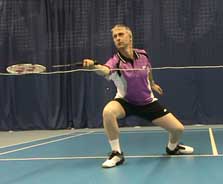 Paul Stewart
Cheshire, UK
Forum Posts: 1283
Member Since:
February 15, 2011

Offline
This is a common problem which is rarely raised for discussion so thank you for opening this up.
Two players with different styles. Can they be a pair? In your case, it's tricky to say as there are so many scenarios in a game. If you were attacking from the rear court and he lifts from the net then it's unlikely. If he maintains the attack, albeit is a more passive way then the changes in pace can certainly work well together.
The big issue for you seems to revolve around him giving away the attack by lifting. Then he is unable to defend the smash which leads to the loss of a point. You can do nothing with this at all, especially if your partner is singled out by the opposition. You are effectively shut out of the game.
In situations like this, do not try to overcompensate. Make sure you are ready to take the shuttle if it comes to you. If you interfere then you will be the the player who looks bad on court.
What you need to do is think about how you play as a pair and where the strength of the partnership is. Analyse serve, return, best combination and this will help you to consider set plays. You also need some honesty too and this comes through in your communication. You need to ensure you have frank discussions because it's likely your partner may be thinking that your style of play is alien to them and they may have uncovered a few of your weaker areas.
Paul
October 20, 2014
1:14 am

AlexLaw
Canada
Forum Posts: 45
Member Since:
November 3, 2013

Offline
Welcome to my life. This is EXACTLY what I face a lot during recreational play. Hopefully you are against recreational opposition because if it's D grade or above, your partner simply sucks too much and there's nothing you can do about it. I can imagines your partner playing a high shot when he's supposed to be attacking at the back… and not intercepting any cross court drives when he's in the middle (or is he even going to go to the middle?), making you look like a fool. I am hoping your definition of 'experienced' does not mean knowledgeable, else what I am about to say should be thrown out the window.
When this situation happens, you have three options:
1. Switch into defense only mode and wait for your opponents to make mistakes/get tired. This is admitting defeat in the battle, but the war isn't over yet. Defending is still better than playing an attack in a side formation. At least your strategy is consistent and complements your partner. Tell your partner to lift high up and safe. Like the second point, if you are going to lift, lift very high and towards your side.
2. Play around your partner's issues. Do not not allow your opponents to do a straight smash to your partner. If you must lift, lift REALLLLY HIGH to your own corner. Only use smashes when you are in middle of the court, play only fast drops (not slow sliced ones), and using frequently blocks and net shots even when it is risky.
3. This is what I do. Ignore your partner weaknesses and assume he is Cai Yun (if front) or Fu Haifeng (at the back)- play what is 'right'. You will be suspect to shots when your partner is supposed to play differently. This improves your play to the maximum but it's not going to get a good chance of winning.
Strategy #2 works the best for me.
October 20, 2014
6:03 pm

Dobbie98
Members
VIP Coaching Program Members
Forum Posts: 165
Member Since:
December 4, 2010

Offline
My Partner has been playing for 15 years. (he's 48) our club has laid on 6 x 1.5hrs training for just £12 but he wasn't interested. The thing is theirs no other viable partner to change with. Have discussed game plans, He plays some really good shots then reverts back, 5 serves in the net, 6 lifts buried in his body In 1 game. Then I lose my game & feel my blood pressure boiling up. But it's the same story in mixed. Guess I'm being tested, but on the mixed front there's a new girl arrived back from Uni who I want as she patrols the net well.
I'm no superstar far from it, I make mistakes, which usually occurs when I'm trying too hard to cover my partner.
I will see how my match goes tomorrow. But we will have a full on warm up & a mutual discussion on tactics & revise & see how we go from there.
Thank you for your thoughts so far.
October 23, 2014
5:50 pm

AlexLaw
Canada
Forum Posts: 45
Member Since:
November 3, 2013

Offline
Lol he's 48 years old-what do you expect from him? He is probably just a casual player who doesn't take the game seriously at all, which is perfectly acceptable. There's only so much discussion you can give because he doesn't care enough. He'd probably take one or two liner advice, but to seriously make big gains by training at his age?
My conclusion is-There's nothing you can do if you stay at the club and partner with that guy if you expect to go far.
October 23, 2014
6:47 pm

Dobbie98
Members
VIP Coaching Program Members
Forum Posts: 165
Member Since:
December 4, 2010

Offline
Hi Alex that should of been 38, but that said our coach is 63 & runs rings around players still. But after a good discussion & talks on tactics we had a match on Tuesday and won all our games, he had a better game. But we need to keep working on our partnership. Just think he's more casual laid back player. Where's I like to play an aggressive & pressurised game.
It's funny thinking about it I need to relax a bit more & he needs to be more energetic & ready for the next shots etc.
October 30, 2014
9:44 pm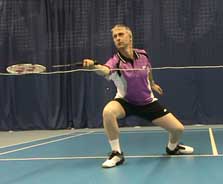 Paul Stewart
Cheshire, UK
Forum Posts: 1283
Member Since:
February 15, 2011

Offline
Whilst they say opposites attract, in situations like this there has to be an element of adapting.
Any good doubles player will be able to adapt top their opposition and must also be able to adapt to a partner too. There are pairings on the international circuit who like to play a defensive game to take the edge off their opponent's attack. Then, they use speedy counter attacks to win quick points.
In your case Dobbie there are two important things you have to do…
1) control your mind – otherwise you will be the one making more errors and looking like the weak link in the pair.
2) adapt your game. Play with more patience and then switch into hunter/aggressive mode to add variety into your side's attack. If your partner lifts, then consider stepping in to your opponent's smash and create a drive return. Follow this to the net for the most likely block return.
Paul

Forum Timezone:
Europe/London
Most Users Ever Online: 196
Currently Online:
5 Guest(s)
Currently Browsing this Page:
1 Guest(s)
Top Posters:
Matthew Seeley: 391
Peter Warman: 239
Ed: 186
Dobbie98: 165
gingerphil79: 158
Member Stats:
Guest Posters: 10
Members: 1510
Moderators: 1
Admins: 2
Forum Stats:
Groups: 2
Forums: 8
Topics: 580
Posts: 4712
Newest Members:
nbaby, a_grimshaw@yahoo.com, poloplayer, Aron Roy, Michael Rathjen
Administrators: AngieS: 0, Paul Stewart: 1283