Hopefully everything will work smoothly for you – however, if there is something wrong, please take a moment to email us (forum@badminton-coach.co.uk) so that we can put it right !
 Please do not SPAM this forum – anyone found posting non-badminton related messages or ADVERTISING without permission will be removed without notice and may be banned from using the forum in the future.
Membership of this Badminton Discussion Forum is FREE
To join, just click the Register button just BELOW on the right.  Please note however that any strange email addresses (lots of random letters etc) with an obscure user name will be deleted.



Topic RSS
Complete newbie
October 14, 2015
12:54 am
moonwitch
Forum Posts: 5
Member Since:
October 13, 2015

Offline
Hi,
Let me introduce myself in a bizarre way that completely matches how I am 😉
I am a 32 yr old female System Administrator – so not a very sporty person, in fact – just 5 yrs ago I weighed nearly 150kg (should be almost 24stone?). I had a gastric bypass and lost half of me, literally. Needless to say, sport at that point wasn't physically possible, which aggravated my, well, dire situation. Due to the weight loss, I don't look very nice (my body resembles a water balloon when I jump or run) and combine that with self-esteem issues and then you get 5 yrs of not being overweight and still not daring to do sports.
Fast forward a little more; my niece convinced me to try badminton in our local club. It's just a walk away, so the threshold is fairly low and we have 2 play days a week. So I enrolled and the first training I realised badminton was a little harder then I thought it would be – but the damage was done; I fell in love with the sport. Now we're at me counting the days and hours to the next play moment; even though I am a horrible player and those doubling with me are bound to lose.
The strangest thing happens on court – of all the worries and fears I have about people seeing me and mocking me – none remain. There's only the shuttle and the people on court with me. My only regret is waiting this long before I started playing.
A friend of mine, who played tennis for over 30 yrs, told me that because of weaker knees (obesity will do that to a body) I should invest in proper badminton shoes – which I did the weekend thereafter. And she was right. While the shoes aren't perfect, it's a lot better and so far my knees or ankles haven't buckled even once. (Except for that one lunge that was a bit overkill and my knee actually slammed into the floor.)
I wonder though, am I abnormal for trying to read up on technique and trying some at home? I am standing in the kitchen for hours trying to get the moves right. I actually practiced getting the shuttle of the floor with my racket 😛 I watch videos and try to copy the movement, things like that. I'm even trying rope skipping to improve my legs' muscle mass/strength.
I guess I just wanted to pour out these things to people who hopefully understand it somewhat. I've had a lot of people laugh when I call it a sport – but after 2 hrs of really trying to play (I've played against people who've played for years), you will call it a harsh sport with zero room for thought on what to do. It's all reaction and blink of an eye action. It's a wonderful and energetic sport.
So hello everyone; thank you! For allowing me to peek into how you play. It's nice to read.
ps. Apologies for ranting and being overly happy about this.
October 26, 2015
5:56 pm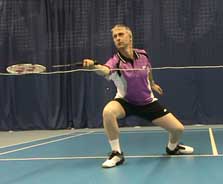 Paul Stewart
Cheshire, UK
Forum Posts: 1283
Member Since:
February 15, 2011

Offline
Moonwitch
You are very welcome to the forum. There are so many videos on Youtube and I always recommend those with Lee Jae Bok. I have so many videos on the Online Video Club which will help you including the lunge which will help you.
Good luck with your badminton and I hope I have the opportunity to coach you in the future.
Paul
October 26, 2015
10:16 pm
moonwitch
Forum Posts: 5
Member Since:
October 13, 2015

Offline
November 11, 2015
10:23 am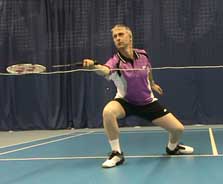 Paul Stewart
Cheshire, UK
Forum Posts: 1283
Member Since:
February 15, 2011

Offline
November 13, 2015
10:13 am

evilchap
Devon
Forum Posts: 32
Member Since:
February 14, 2013

Offline
Hi moonwitch
I would suggest also that where Paul suggested coaching, this would be a brilliant plan to progress your game!
You will find with the correct techniques that things become much easier, and less effort – and having a coach give you pointers is a huge help. Quite often you will be doing things which make your life harder, but as you have no basis for comparison you will never know.
If you watch the top players at your club you will likely notice they appear to float around the court with what appears like a minimum of effort, and are always in position to hit a return – where the slightly less able players will be running around like crazy people and be much more tired! This is down usually to having been coached in their movement and positioning.
Welcome to the game, it's good to hear of people coming into it, many clubs round here seem to struggle with membership as the population density is so low, it's good to know it's growing in other places 🙂

Forum Timezone:
Europe/London
Most Users Ever Online: 95
Currently Online:
18 Guest(s)
Currently Browsing this Page:
1 Guest(s)
Top Posters:
Matthew Seeley: 391
Peter Warman: 239
Ed: 186
Dobbie98: 165
gingerphil79: 158
Member Stats:
Guest Posters: 10
Members: 1408
Moderators: 2
Admins: 2
Forum Stats:
Groups: 2
Forums: 8
Topics: 580
Posts: 4711
Newest Members:
Acaelus, phil5, TimE, febrianj, macbrown
Moderators: LW Support: 0, Design: 0
Administrators: AngieS: 0, Paul Stewart: 1283