Hopefully everything will work smoothly for you – however, if there is something wrong, please take a moment to email us (forum@badminton-coach.co.uk) so that we can put it right !
 Please do not SPAM this forum – anyone found posting non-badminton related messages or ADVERTISING without permission will be removed without notice and may be banned from using the forum in the future.
Membership of this Badminton Discussion Forum is FREE
To join, just click the Register button just BELOW on the right.  Please note however that any strange email addresses (lots of random letters etc) with an obscure user name will be deleted.



Topic RSS
Finishing the point early
January 1, 2015
10:27 am

Dobbie98
Members
VIP Coaching Program Members
Forum Posts: 165
Member Since:
December 4, 2010

Offline
When playing doubles & your partners having an off day. When do you decide to take the game by the horns & attempt to finish the point early? You've tried setting him up, he's missing easy put away chances, the games slipping. When do you think enough is enough, I need to act now. Do you decide when the score gets to a certain point, do you tell your partner what you plan to do? Or would telling him make him feel worse & be more detrimental?
Has taking the initiative worked or does it depend on your opponents?
I await your thoughts
January 2, 2015
1:24 pm

Ed
Forum Posts: 186
Member Since:
March 2, 2010

Offline
Depends who I play with. In MD, I'm not too bad at the net. So when I make a mess of it, I take up my role at the net, and make sure my partner can have a good time at the back to smash down the points. When this setup fails, I'm usually out of answers. In MX, I need a partner that is good at the net. As long as I can drop and smash, it is okay. If I need to lob, or if I need to run left to right in a long rally, most of the times I lose the point. Go back to what you are good at and you master well. When there's a (at least) 10 point margin, then there is some room left to try or mess around.
January 2, 2015
4:38 pm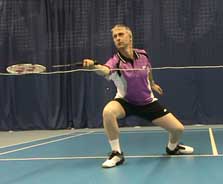 Paul Stewart
Cheshire, UK
Forum Posts: 1283
Member Since:
February 15, 2011

Offline
This is a great question.
It's usually late in the game when you've wasted or lost so many points. You've also seen too many points lost that you have to do something different. But, the question is how do you change the game to create this opportunity for your side? What can you do against a good pair? What situations must you create and/or stop to turn the game around?
Paul
January 12, 2015
4:14 pm

Peter Warman
United Kingdom
Forum Posts: 239
Member Since:
May 25, 2010

Offline
Really does depend on the partner you are playing with to be fair, in terms of how they take "the talk". Everybody is completely different so there would be no right or wrong.
However, when I'm playing bad, and I know it, I just concentrate on getting the shuttle back over. Whilst that might seem obvious as that's the idea of the game, what I mean is, no fancy shots, no trying to get it inch perfect down the lines or in the corners. Just get the shuttle back and try and set up a shot for your partner to finish. It's also sometimes helpful when people state the obvious to me, as sometimes it's not obvious to me on court (I'm having a bad day remember), and as soon as they've said it I'm like "oh yeah". So they might say, "stop clearing it all the time". My first thought would be "but I'm not". Cue a few shots later when I go "oh yeah, so I am!!"
And yes, being told to stay at the front because your playing bad can be a bad thing, which could happen after the match when the player starts to doubt themselves. Plus also, they might be thinking that they were playing well so that would be a big kick in the teeth, although if they know they are playing awful then they might welcome the idea.
Also, just as a side note, but generally you try and win the point early as possible, so maybe the opposite needs to be done, as in keep the rally going (and force your opponent into making a mistake?). If you try and end the point earlier than normal then you will run the risk of making errors yourself so you will be giving points away as quick as your partner! I guess then your partner could shift the blame onto you…………..

Badminton Gives Me A Purpose In Life – To Serve Others
I'd Rather Be Playing Badminton…………..
January 12, 2015
7:10 pm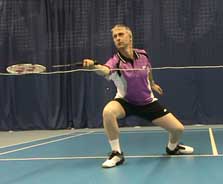 Paul Stewart
Cheshire, UK
Forum Posts: 1283
Member Since:
February 15, 2011

Offline
Agreed Peter
As with many aspects of badminton, talking to your partner is a personal issue.
For me most players try too hard to hit a winner rather than place the shuttle to open a potential gap or possibly force an error. Because of this far too much effort and tension are used which both contribute towards increasing the risk of the shot and therefore error.
Whilst this game is becoming all about speed and power, I still believe there is a place for accuracy and intelligence in shot making, especially below international level. Let's also be realistic as we don't play anywhere near this level, and therefore use the skills you have rather than trying to emulate and copy skills you haven't got.
Paul
January 14, 2015
10:01 pm

Dobbie98
Members
VIP Coaching Program Members
Forum Posts: 165
Member Since:
December 4, 2010

Offline
Last night I had a mixed away match. My normal partner had a family loss. Due to the other matches going on they couldn't find me a partner within the club. So they asked a friend if they would play, the lady hadn't played since her school days some 25 years. Although we didn't have a real chance of winning we got up to 18 points in one game. But it made me really think about the shots I played, how I could try & engineer so I got the shuttle back. Although initially disappointed, it was an interesting learning experience & due to the lady giving up her evening we didn't get a point deducted for not fielding a full team.
At first I tried to kill the shuttle but was not that fruitful, but maybe having read fellow posters on here thoughts, I worked to initially just to get the shuttle back then when the opportunity arose I managed to place the shuttle to either finish or set up a better opportunity.
January 15, 2015
9:57 am

Matthew Seeley
Members
VIP Coaching Program Members
Forum Posts: 391
Member Since:
August 12, 2010

Offline
Good work Dobbie! Always tough to play with a new partner at short notice – especially one who hasn't practiced in so long!
I wanted to raise a different point, in direct response to your original post – when should you decide to change something?
Firstly – you should never decide to take matters into your own hands – it sounds like you are going to all but shove your partner off the court! Doubles is about the team, and some simple positive instructions to your partner may help. Do they need to go for the kill? No. They could just play a simple block and keep the rally going, and hopefully you will eventually get an easy kill – but you need to work hard.
More interestingly… when do you decide you need to change tactics. As Paul said, most do it WAY too late in the game. I am going to offer an interesting idea, that works quite well for me… Warning – in order to achieve this, you need to be match ready i.e. you need to have warmed up properly, and you also need to have tactics in mind and be implementing those.
Now, an observation: Most points in badminton are won and lost through errors – e.g. bad defensive shot that pops into the midcourt… well, whilst the smash is the winner, the point was lost by poor defence, not by an uber smash. Or smashing into the net etc etc. Badminton really comes down to consistency of play, not how amazing your attack is (this is true at professional level, but even more so at club level).
So how do you know which side is "winning" at any given point?! You can't wait for the end of the game – thats too late to do anything about it. What I suggest is you keep track of how many mistakes each team has made in the last 5 or 6 points. Most, but not all points, will end with a mistake of some sort (against opposition who are extremely strong, there may not be many errors – you need to work out if there is a way to introduce errors to their game!). I want you to count how many points have been lost by each pair due to a mistake. If your team has made 4 mistakes in the last 6 points, and your opponents have only made 2, then whatever tactics you are currently using are not working – because your opponent is forcing you into mistakes, not the other way around. This may be happening if you are trying to implement a tactic you don't have the skills to implement – in which case, its like trying to pretend you have tools that you really don't have in your toolbox today – everyone has an off day and not every tool we normally have is always available – so time to make use of different tools!
Once you have recognised how many mistakes you are making and that you should change tactics, then you simply need to decide on what to try next/what adjustments should be made e.g. try steeper slower smashes, rather than faster flatter ones. With new tactics, now start counting the errors, and what the difference is.
Do not get disheartened by lucky shots or unexpected winners from your opponents – if they happen, then you have lost the point but not through bad tactics – keep going and don't give up!
Cheers everyone – slight diversion in topic, but something you may find interesting to try so you don't leave it too late before you change tactics!
January 15, 2015
10:35 pm

Dobbie98
Members
VIP Coaching Program Members
Forum Posts: 165
Member Since:
December 4, 2010

Offline
January 27, 2015
7:43 am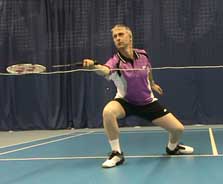 Paul Stewart
Cheshire, UK
Forum Posts: 1283
Member Since:
February 15, 2011

Offline
As usual I agree with Matt.
Badminton games are won on errors rather than winners. If pushing too hard to kill the shuttle is resulting in too many errors from your team, then it's not working. What this means is to stop trying to hit the shuttle so hard and introduce variety in pace on the shuttle. When in doubt lift into the corners and let your opponent make the play.
When playing with a new partner, they need lots of encouragement, a good degree of setting up and time to see the shuttle. Most men push their lady ahead of the service line and expect miracles. They haven't the time to see the shuttle and you are then expecting perfection from pure reflex shots.
In your situation Dobbie, you were playing with a player with little recent experience. This meant an extremely cautious mindset with regard to her playing capabilities, especially as you didn't know her. Any kind of set up is high risk but sometimes you've got to take the chance and hope she connects with the shuttle.
The name of the game is control. The more you demonstrate this, the less errors you make.
Paul

Forum Timezone:
Europe/London
Most Users Ever Online: 196
Currently Online:
7 Guest(s)
Currently Browsing this Page:
1 Guest(s)
Top Posters:
Matthew Seeley: 391
Peter Warman: 239
Ed: 186
Dobbie98: 165
gingerphil79: 158
Member Stats:
Guest Posters: 10
Members: 1489
Moderators: 2
Admins: 2
Forum Stats:
Groups: 2
Forums: 8
Topics: 580
Posts: 4712
Newest Members:
Premnidhi, Anime-jew, mokmatthew, suneet31, Issac
Moderators: LW Support: 0, Design: 0
Administrators: AngieS: 0, Paul Stewart: 1283