For this one day course, my co-coach is Julie Henderson Russell.
Julie was ranked in the top 15 for singles, doubles and mixed in the country, has 230 caps for Wiltshire first team and has played for England at masters level.
She has her own badminton academy in South East london, running nine teams in league badminton. She has coached County players who have gone on to win county championships. She has accompanied players to GB training sessions and travelled around Europe, and coached at the All England.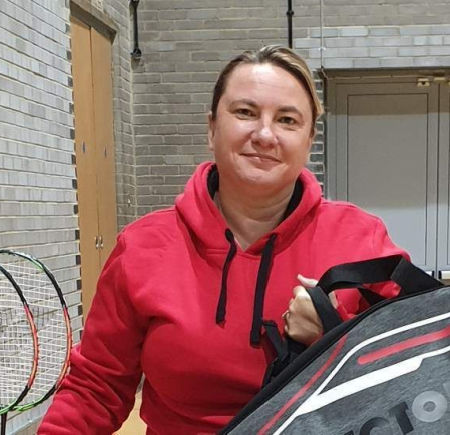 Course Details
Date: TBA

Time: 9am – 5pm
You will be on court for between 6 & 7 hours, allowing for breaks.
Each player will be asked to provide 2 subjects they would like to cover – a form will be provided to send this information to Paul after you book your place.
Price: £125 per player, which includes court hire, coaching and feather shuttles
Number of Places Remaining: 5

Please note, all places must be pre booked and paid for in advance of the course date.
What Else Do You Need To Know?
As these are one day courses, please bring with you:
– plenty of water
– a packed lunch
– any other refreshments you prefer
Learning new skills requires patience, and therefore you will find that repetition is the key to success, and is far less physically tiring than playing games. To learn, you need to see the correct way, understand the components of the skill and finally, feel the difference when you complete the skill. When you feel the shot, you are then able to repeat it and later, develop the speed to use in a game.
These one-day courses are specifically designed to answer some of the key questions I am asked by players, like you. There will be lots of time for questions throughout the day.
I am confident that you will have a great day and learn so much.
Paul
Prefer A Different Date Or Location?