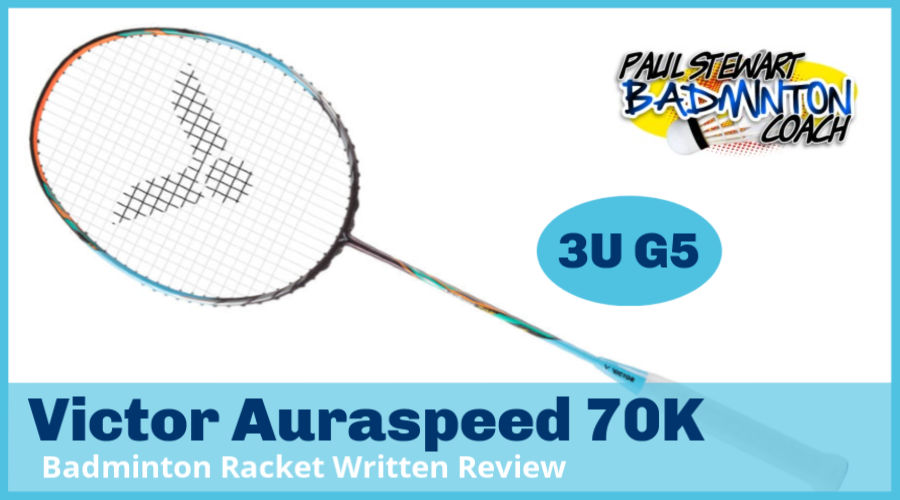 The Victor Auraspeed range was launched in Asia in 2018 with the introduction of the Auraspeed 70K and Auraspeed 70F. This new range of rackets is considered to be the successor to the very popular Jetspeed series. As the name suggests, the key feature of the range is the aerodynamic quality, possibly steering closer to the iconic Bravesword classics.
Victor Europe have selected the stiffer and possibly more colour-friendly of the two Auraspeed 70 versions as part of their 2019-2020 range, which in my opinion was a smart choice. Rackets with pink colouring tend to be considered a "ladies" rackets, and therefore lose mass appeal.
On to my review of the Auraspeed 70K
Auraspeed 70K is a rather colourful mix of sky blue, black, sea green, metallic purple and orange. Yes, it stands out a little and I really like it, but it's certainly not garish. As expected, there is a full length cover which is expected in Europe.
My review sample is a 3U (85-89g) with a grip size G5, the standard for Victor rackets worldwide. As with all Victor rackets over a price point, the racket is unstrung and I therefore used the string that accompanies the Auraspeed series, Victor's own superb VBS68.
On closer inspection, there is a ridge running on the inside of the frame which we first saw on Jetspeed 11. When comparing the two rackets, it's clear that there are similarities. Some may argue that AS70K is a Jetspeed 11 with a different colour, however, I can confirm that there are distinct differences in feel and playability with AS70K being my favourite in the comparison test.
Auraspeed 70K is an easy racket to play with.
There's almost an immediate affinity with the racket, it's so easy to pick up and play. This is a slightly head heavy racket, medium/stiff flex, mmm, very nice. It hits strong and fast and is highly manoeuvrable.
Clears were crisp, snappy, accurate and deep. I really like the head speed on AS70k with no signs of drag. This is one of those rackets that easily delivers and consequently allows the player to make the shot without too much effort.
The ability to generate good racket head speed is a great help with attacking shots. I hit a good range of drop shots from fast slice to slow push-type. Again, there's plenty of control and I like the ability to turn up the speed when required, and this is where the aerodynamic build really scores.
Smash was good too allowing for a range of half, slice and full shots to be delivered with relative ease. The racket does not tire the arm which is useful when sustaining the attack against a good defence.
As we moved into mid-court hitting, this racket continued to shine. Flat drives were punchy, controlled, zipping across the net at a good pace. Slight change in the hand and the shuttle fires off in another direction, nice.
AS70K is also very good in defence. The highly manoeuvrable head seems to respond well to the challenge of returning a good smash. It's quick to handle and has enough weight in the head to punch a drive, guide the block and sail another lift onto the back line.
I rarely find a racket that cannot perform in the net area. AS70K did not disappoint. Line up the head and let the racket head caress the shuttle over the net. A loose net shot is dealt with in a short, swift manner with bags of control without the need to tame in any way. It's quick enough to cut out those tricky intercepts too.

Victor Auraspeed 70K – Summary

The Auraspeed 70k is a welcome addition to Victor's range of rackets. It plays well and should prove a firm favourite with club players. It's a very good, fast all-rounder and deserves to be on many a player's wanted list.
Perhaps, the downside to this racket is the bright colours which is purely a taste issue. As with all rackets, some will want more in one area and less in another, and this is where a jack of all trades racket can miss out.
As the first racket in a new range, it will be interesting to see where this technology goes. Victor have started well with AS70k and I hope they can build on this success.
RRP on Auraspeed 70K is £170 but retailers are already discounting to around £135 which is still a lot of money for a racket, but fair for a racket of this calibre. The highest recommended tension is 30lbs which is good. As the first of many, I hope Victor continue to refine. With time, I expect Auraspeed rackets will be become as popular as the Jetspeed series.
In summary, Victor Auraspeed 70k is a fast all rounder.
I thoroughly enjoyed testing this racket and am delighted it will remain in my demo bag this year. I will give AS70K a rating of 4.5 stars