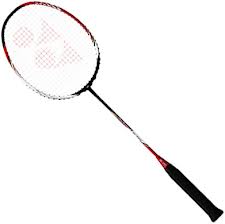 To many, Yonex Arcsaber range is the logical choice for a revamp following successive launches of Voltric and Nanoray series to replace Armortec and Nanospeed range respectively. So, it was a little surprising to hear of a new Arcsaber launch in November 2012, especially a potential sibling of the popular Z Slash. So, does this new i-slash live up to its bigger brother or has Yonex changed the racket specification enough to solve the miss-hitting issues that so many players reported? Let's take a look and see…
Arcsaber i-slash is an upper range even balance, medium flex racquet with excellent graphics using Yonex favourite black, red and white colour scheme. It is a 3U (84-89g) G4 (small grip) which seems to be the norm these days for UK specification racquets. The racquet is strung with Yonex BG65Ti string at a reasonable tension. Those who read my reviews know how much I prefer to test a racquet that is already pre-strung. The customary Arcsaber racquet bag accompanies the frame – good quality.
It's hitting time…
Having enjoyed Z Slash, albeit I struggled occasionally with timing the shuttle, I was expecting this racquet to play very similar bearing in mind it still has the more narrow-shaped head. Wrong!
Without a Z Slash to compare the frame I was surprised at how thin this frame was. It reminded me of Nanospeed 9900, just a different shaped head. I also noticed that the extra weight at the top of the head was missing. Yes, it's certainly different.
Clearing the shuttle was still easy. Compared to my VT80, the racquet moved through the air really quick. There isn't much drag to worry about and I'll put this down to the thin frame and the even balance.
So clearing was easy and drops were crisp and precise. That's a good start. The big issue is whether this racquet can pack the kind of power the Z Slash was renowned for. Sadly, for me the answer is no. The good news is that I didn't suffer a single miss-hit all night. However, I didn't hit a decent smash either, which makes me wonder what this racquet is meant to be? I expected a powerful racquet, but a bit easier to handle. What I got was an easy racquet but lacking any kind of wallop – a bit disappointing.
Moving on…
So, we've established this racquet is quick but lacking in power for good offensive play. Can it really be good defensively?
For an even-balance racquet, the simple answer is yes. But, if you're looking for a super-fast frame, then Arcsabers are not for you. The frame is not as aerodynamic as a Voltric, or as light in the head as a Nano so it falls into the middle ground and that's what many players want. This gives them some beef in the overhead department whilst still retaining a degree of speed for all the fast defensive skills and speed around the net. But, on the plus side, there were no miss-hits so timing in defence was easy.
Around the net, the racquet performed well too. In fact, it made me question how close it was to the head weight on a Nanoray in view of the way it performed. It certainly didn't feel too much like an Arcsaber.
In some respects I would have liked the opportunity to test this racquet strung at a higher tension, but let's not complain, I learnt a lot and it certainly performed well overall. And that is what this racquet does pretty well, delivers a good all-round game for you without any frills.
Summary
I liked Arcsaber i-slash but expected more from it. Graphically it looks great and this time around the smaller shaped head did not pose any problems, another plus.
RRP for i-slash is £160 but I would expect online discounters to retail around £140. That's a bit overpriced in my book because this racquet simply isn't good enough compared to so many other already established racquets. As such I feel it will struggle to find favour.
This has been a difficult racquet to rate because I think it is lacking and therefore shouldn't be priced too close to the original price of Z Slash. But, it does perform very well and I wonder whether I would be as disappointed if I hadn't compared it to its older sibling in terms of power? In the circumstances, I consider a three star rating is fair for this racquet, marking it down on power and price.
If you're an intermediate – advanced player who can really pack a decent smash, you may find this racquet really suits your game. If you need a racquet to help you generate power, then sadly this may not be the racquet for you. It's worth adding to your testing list when you're looking for a new racquet.