Background
My third recent Bravesword review is Lee Hyun IL Signature model, a racquet I've really been looking forward to reviewing following an initial test in Germany in July.
Generally speaking I'm not a great fan of signature racquets because the name can sometimes get in the way in respect of whether the racquet's any good or not, or whether it suits your game. What makes this racquet so quirky is that Lee Hyun IL has retired from international badminton twice and no disrespect to the player, but not too many European players, especially at club level will have any idea who he is and what a good player he was. So why introduce it now? Why not choose an up and coming badminton star?
Lee Hyun IL was a Korean singles player (semi finalist at 2012 Olympics) who favoured Bravesword 11 during his last few years of international competition. It's no surprise therefore that the specifications on this racquet are identical to Bravesword 11 i.e. medium stiff flex and even balance head.
Having enjoyed playing with Bravesword 12, this is going to be an interesting test. Is there sufficient difference between the two racquets for this racquet to justify a place on the Bravesword team? As a signature racquet, it will need to be highly impressive to win brownie points. Let's find out…
On to my review…
This Bravesword LHI is a sample and therefore the bag was not included. I am aware there is a full length cover to accompany the racquet and no doubt it will be Victor's high quality, possibly a blue version of LYD cover. This is a great looking badminton racquet with silver specked black paint, white gold, yellow and blue decals which add so much to the overall look of the racquet – my first WOW! of the day.
Victor has a rating system for shaft flexibility and head weight. BS LHI scores 4/5 for shaft flexibility which translates to medium-stiff performance and 3/5 for head weight which means even balance although I detect a leaning towards head heavy here.
Weight is 3U (84-89g) and grip size is G5 which makes me wonder whether it's close to a Yonex G5 although doesn't feel that thin. All top-end Victor racquets arrive unstrung, so this particular model was strung by me as it's a sample and not for the retailer. So I strung it to 27lbs with Victor's VS850 string. It's a very nice string although tends to lose tension early which is a shame as it plays so beautifully. Maximum tension for this racquet is 30lbs so there's plenty more in the tank to cover the majority of county and international players preferences.
It's hitting time…
Overhead Performance
I've said before that the great thing about even balance badminton racquets is that they tend to do many things very well. Quite frankly this is an understatement in respect of this particular racquet.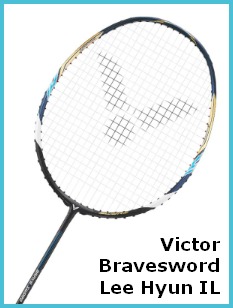 Readers of my blog have heard so many times about my particular preference for head heavy racquets. Having recently tested and liked Bravesword 12 which was an even balance racquet, which I customised by adding Victor's Powerizer tape, I expected to be taking similar action with this particular racquet, but it wasn't required. Perhaps I was right and there is an element of head heaviness here. With a wet BP of around 307mm it's certainly leaning towards head heavy.
First impressions were extremely good with this racquet. I expected the usual fast frame from a Bravesword but this racquet really came alive. Clears were so crisp and easy. The stiffer shaft gave this racquet a little more substance in the shot which I really enjoyed. This is the feel I would have liked in LYD version but didn't get.
So thumbs up in the clearing department and a second thumbs up when slicing, reverse slicing and testing a number of drop shots from rear court. I really like the speed of this frame, and the sharpness of the shot. Granted it doesn't possess the most solid platform in the head compared to the best (Z Force), but there again, no racquet has matched it either.
My smashes were pretty good too. For me I accept that I need a head heavy racquet for my best, but at my age I fatigue quicker, especially with the lack of playing and fitness so I was delighted with the results I achieved in the three hours on court. And I was still smashing stronger with control at the end. Box ticked.
Flat drives and pushes were a doddle. The racquet seems to have another gear for these exchanges. You don't need to squeeze much to get a good result.
Defence
Perhaps I had the added benefit of testing a racquet at my preferred tension for once but was thoroughly enjoying this review. Having moved on from the flat exchanges and saw a marked improvement in defence. The speed of frame really came into play here and I snapped a number of really good off the hip shots so much better.
Net Area
Bravesword Lee Hyun IL allowed me to be even more aggressive at the net which was great fun. I agree that the increased tension provided so much more control. The smaller grip really suited and allowed for fast grip change and the standard Bravesword racquet speed did the rest – lovely.
Summary
The Victor Bravesword Lee Hyun IL is a superb racquet and for me goes one better than BS12. Perhaps this is because it's more suited to my preferences although generally I wouldn't choose an even balance racquet over head heavy. Of course, there's the added benefit of a custom restring so I was playing close to my usual preferences albeit a different string (which I might add played so well).
As this is a brand new racquet due for release in UK very soon. Because of this I can only guess a RRP around £160.00 and possible online price around £120.00
I've stated on many occasions on how I enjoy Victor Bravesword series. It's a shame there are not more frames in this range with a lower price point because I consider they will be extremely successful.


Victor's Bravesword 10 was my first 5 star rated non-Yonex racquet. Whilst the specs on the BS LHI are slightly different, overall playability was up there and at the very top. This racquet has great looks, great feel and great playability. Sadly I cannot compare to the old BS10 for a head to head review however, I am so impressed with this racquet that it is my racquet of choice for the forthcoming season. To give a racquet such an accolade is unusual for me and therefore I have to back this up by awarding Bravesword Lee Hyun IL a five star rating.
Forget this racquet is badged a signature racquet. It stands on its own merits and well deserves it – another World Class racquet from Victor. Look out for an opportunity to demo one and maybe you'll be as pleased with it as I am.
To receive regular badminton help, advice and tips from me by email, click here to subscribe to my mailing list