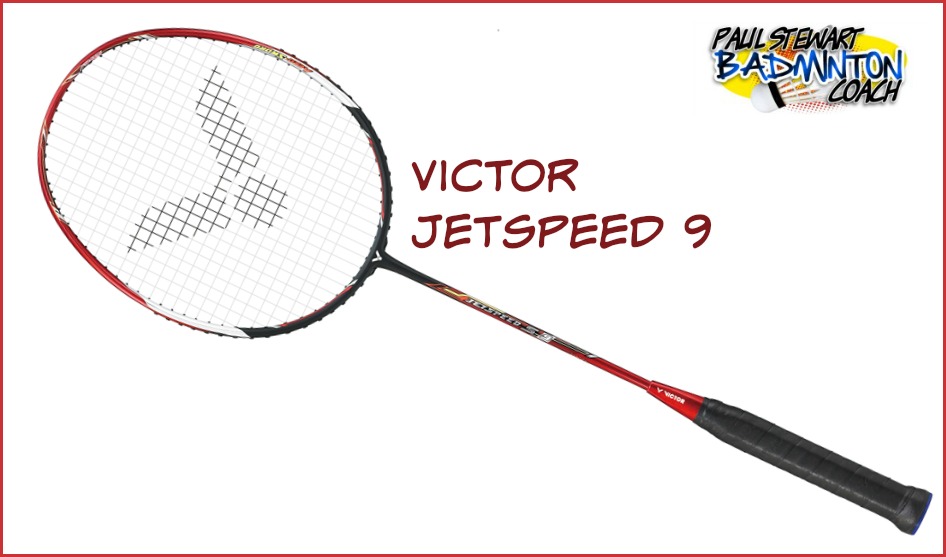 In 2013 Victor introduced the Jetspeed series of badminton rackets. This series was designed to replace the extremely popular Bravesword range and was therefore met with a degree of trepidation and curiosity.
The first rackets to be launched in this series were Jetspeeds 8 PS and 8ST. Whilst both are good rackets, the Bravesword fans were not convinced and continued to order replacement Bravesword frames.
Fast forward to 2015 and Victor Europe have released Jetspeed 9 and Jetspeed 10. Both of these frames feature new materials in the shaft which has made a significant difference to the feel and playability of these Jetspeeds. Now the Jetspeed range is getting serious attention and rightly so.
Being a stringer at the All Englands has certain advantages, one being the ability to see first hand which models the professional players prefer. I also get to string these rackets which helps me get a feel of the racket and how it performs on a machine. There were a number of players using Jetspeed 9's in Birmingham and I recall the very high tensions these frames were strung at, the maximum being 32/33 lbs.
The Jetspeed 9 arrived in the black cloth bag with the Jetspeed branding. Personally, I loathe these bags and consider they are a waste, preferring decent covers for these high end rackets.
JS9 is a striking racket in black and red. This is a 5U version (75-79g) G5, small grip. The racket arrived unstrung so I selected my favourite string Ashaway Zymax Fire 66 and restrung to 25lbs and this will eventually become one of my demo rackets.
Having used Jetspeed 8ST, I expected a bit more from Jetspeed 9. This is an even balance frame and therefore it should have a little more power over the lighter headed JS 8ST.
This is an incredibly light racket. There's a noticeable difference in the width of the handle and I'd say that the Taiwan G5 is wider compared to the China G5.
Having tested a number of 4U frames recently I was expecting a fast frame and this is exactly what I got. My timing had to be good to clear the shuttle consistently well. Being more of a front court player I felt that the racket was too light and I lacked power.
My standard set up leans towards a head heavy frame to compensate for my slim frame, ageing body and medium power. As such this racket wasn't a good fit for me. I had the chance to give it to another player, a big guy with a lot of power and he absolutely loved it. In fact, he ordered the racket before the end of the testing session.
Drop shots were really crisp and sharp. I really enjoyed the swing speed here making clip returns simple with very little movement. It's also easy to play those half shots too, taking the pace off the shuttle enough to place in the forecourt. Slice returns were also quicker and the beauty with a slightly lighter racket is the extra wrist I can use in the shot. It was such a delight to hit so well with this racket, still having plenty of feel despite the lighter weight.
Onto the smash. Whilst the racket is fast, I noticed a reduction in my hitting power. This was expected after the earlier clears. Handing the racket over to the big guy was interest as he thundered down so many good smashes to put me to shame. Oh well, we all have our strengths and weaknesses. Again, for me the racket lacked punch, although I could imagine a heavier version being so much better.
Flat drives and pushes were easy to prepare for and the racket performed well if I was responding to power. However, when I had to inject power into the drives I really wanted more weight in the frame to help me. Big guy demonstrated the racket had that injection of pace when needed.
The speed and lightness of the frame made defending a joy and I found it easy to block. Lifting a driving the shuttle were not as good for me but there again big guy found it easy.
What was good about Jetspeed 9 in defence was the shear speed of movement. I could prepare to return the shuttle early without feeling under pressure, but I had to be very careful in my shot selection for best results.
I always enjoy playing at the net, trying to dominate and intimidate my opponent. Jetspeed 9 came alive for me, proving so much speed when good reflexes were required.
There's plenty of touch despite the lighter frame. This is one area of the court where lighter rackets should shine and JS9 delivers without asking too much. It's really quick for those all-important interceptions.


Jetspeed 9 is a good racket although it's clear it's not for everyone. The lighter frame provides many advantages, especially around the net and defending. For a power player this racket could be an absolute dream, dishing up lots of power and yet remaining super-fast when called up.
With players asking for lighter rackets, this could be the answer for many. RRP is £180 so definitely sits near the top of the range. Online stores have already discounted to just under £130. Whilst potentially you are getting a lot of racket, select carefully because it may be too light for your tastes. Perhaps the Jetspeed 10 will prove to be a better option?
Whilst I enjoyed playing with the Jetspeed 9, it's not one of those rackets that I would keep in my bag. A powerful player may love it but I simply do not have that explosive power to make it work well enough for me.
As reader of my racket reviews will know, I review a racket based on its performance. This is why I test with others. We all discuss the relative merits of the racket and we all see and feel first hand what it is capable of doing for players. On a personal note, I do not consider it's for me or will retain it in my personal bag. Big guy ordered one after the review which says a lot. Overall, I'll rate this racket four stars as I know what it's capable of, even if I can't make it happen. It would be unfair to score this racket lower based on my own imperfections.
To finish on a positive note. If you are a power player, then you should take a good look at this racket and test it soon. It's fast, it's powerful, it's super-light and so good around the net.