In 2016, Yonex introduced the DG series of Voltric frames. DG is short for Durable Grade. There are three frames in the DG series, namely VT1 DG, VT7 DG and Voltric 10 DG. These are considered mid-range rackets.
What's so special about the DG series? The big news for some is that they can be restrung up to 35lbs tension. When I heard about these rackets I had mixed feelings, so here is my warning to all players who consider this means they must have their racket restrung at 35lbs tension.
Most of the professional players do not have their racket restrung at this tension. Most players do not meet the standards of professionals who are trained to play with such high tensions, and therefore what is the point of attempting to play with a racket restrung at such a high tension?
High string tension does NOT give you more power.
If you want to test a racket at this tension, I suggest you take it to a professional stringer and not a bedroom part-time stringer.
The only good thing I can think of by introducing a racket that will withstand such high tension is almost a inference that the racket is stronger. However, this does not mean the frame will be intact if there is a collision with another racket.
Overall, it concerns me that this series has been released because of the above reasons. Players can injure themselves if they risk playing with a racket restrung to 35lbs. However, I have written about high string tension before and there's no doubt somebody will ignore my warning.
I appreciate that string tensions in Asia tend to be higher than in Europe, so I am sure the DG series of rackets will have more appeal there.
Voltric 10 DG is a good looking racket combining black and peach. This is a 3U (weight 85-89g) G4 grip size with the standard full length Voltric racket cover. The racket was pre-strung with an unmarked string more or less to factory settings, so it is not being tested at very high tension. Thankfully, the stencil ink remained on the racket this time so it makes me wonder whether this was restrung by the retailer prior to sending to me.
This is a stiff, head heavy racket. The 10DG features a compact frame and therefore has the same head shape as the Z Force II. The difference between these two frames is that the ZF II is more head heavy and carries a slimmer shaft.
By way of quick comparison, I will also be reviewing the 7DG. Both rackets have a similar flex in the shaft, however 7DG is a standard size head and carries less head weight.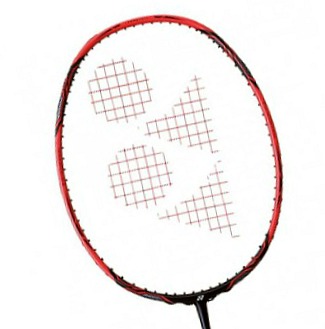 Whilst there is a familiar feel from the 10DG, I must stress now that it will not perform as well as a Z Force II. However, for those players whose budget will not allow them to purchase the Z Force II, this could be an ideal replacement. Overhead clears were fine, and as usual, it's good to feel the head of the racket.
Drop shots were good too but lacking the same refinement in feel that I had with VT Lin Dan. It's to be expected. This is a stronger, chunkier head so it's not going to be the best for aero-dynamics. That said, the racket performed pretty well considering I had an unnamed string at low tension to contend with. There's a solid feel on impact, but it's a few shades duller than some other frames I've tested recently.
For a head heavy frame, it's expected that the smash will carry more weight but that doesn't necessarily mean more power. Power requires a force to be applied at high speed and this racket doesn't quite get there. It's still good but not in the class of Z Force II. However, with a price around half that of Z Force II, it's to be expected.
Flat drives provided another great test regarding the head weight. The good news is that the lower head weight allowed flat rallies to carry on for longer without one of us feeling the fatigue in our arms. With a different, brighter string, I'm sure this racket would perform even better.
Save
Usually, heavier headed rackets present a minor issue in defence and this was certainly the case here. Hands need to work hard to ensure the racket is in the right place to defend the shuttle. This is where the lower aerodynamic qualities take their toll and there's a tendency to block rather than drive or lift the shuttle again. I heavy dose of armchair exercises would be useful if you select this racket.
Again, whilst not the fastest off the blocks, 10DG performed fairly well. There's always a difference in feel between the high-end frames and the medium or lower ranges. This is to be expected because there are different qualities of carbon. Therefore, there's less feel on the shot compared to Z Force II.


The Voltric 10DG is a mid-range racket that performs as expected. It is a good, steady racket, lacking the refinement of the considerably more expensive models in the range, however, it holds its own for the price.
RRP is a surprising £95. Amazingly, retailers in the UK are selling this racket for around £67 as it is already discontinued, and will not feature in the new range of Yonex rackets this year. It's unclear whether this is just a UK initiative or worldwide. It's a lot of racket for the money and therefore increases the rating I would give it.
Overall, I rate this racket 4 stars.