Hopefully everything will work smoothly for you – however, if there is something wrong, please take a moment to email us (forum@badminton-coach.co.uk) so that we can put it right !
 Please do not SPAM this forum – anyone found posting non-badminton related messages or ADVERTISING without permission will be removed without notice and may be banned from using the forum in the future.
Membership of this Badminton Discussion Forum is FREE
To join, just click the Register button just BELOW on the right.  Please note however that any strange email addresses (lots of random letters etc) with an obscure user name will be deleted.


Topic RSS
Related Topics
High end Yonex trainers?
March 20, 2010
12:33 pm

Sevex
Birmingham
Forum Posts: 2
Member Since:
March 20, 2010

Offline
Michael K said:
I get tearing along this structure. But in the shoes defence I play anywhere up to 12-15 hours a week in them so I get value for money. I am not a big fan of the 101 as I find the heal slightly too high, I much prefer a thin sole. Found the shb 91 to be perfect but couldn't get them locally anymore (worn out all the pairs I could find). I recently switched to Victor 9500 and find them great. As I always tell people the one area you should spent as much as possible is on shoes they are the most important part of sports gear. Haven't gotten a chance to try the shb 200 yet but I am sure someone here has.
---
I just switched from playing with the Victor 9500 (I broke them ) to the shb 101 and have found the Yonex shoes to be a vast improvement, for the exact reason you don't like them. The improved cushioning makes me come off the court feeling better less achey. I'm also less scared to lunge forward. The Victors were simply too thin and I was bruising my feet a lot, possibly due to poor lunge technique which I'm working on.
When I tried on the SHB 200 at the All England championships they felt a little too high, but for people looking for a lot of cushioning and a wide fit they would be ideal.
I agree with you on the get the best shoes possible, but would like to add, the best shoes for your feet, this may not necessarily be the most expensive.
April 5, 2010
1:21 pm

Jonathan BEL
Forum Posts: 105
Member Since:
April 4, 2010

Offline
I'm using the SHB 101 M.
I like them a lot as I have more grip on court but I'm asking myself how long it's gonna last. Due to orthopedic matters I had to change the sole in the shoes. They are delivered with a kind of "waves-sole" in it and it felt quite uncomfortable to play with them but it's personal. I've paid 80€ for them.
Hope Yonex will provide new models of trainers on the same basis.
April 5, 2010
8:39 pm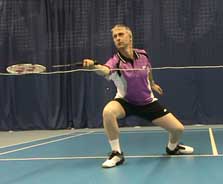 Paul Stewart
Cheshire, UK
Forum Posts: 1283
Member Since:
February 15, 2011

Offline
Jonathan
Yonex has just introduced a few new models in Europe and UK. SHB85 is by far the biggest seller. It outsold every other shoe at All Englands this year and it's cheaper than top of the range. Currently Taufik is using this shoe (or the Japanese equivalent).
There's also SHB92 and SHB58 and a new colorway in SHB200.
In other words, plenty for you to choose from.
Paul
April 5, 2010
11:52 pm

Jonathan BEL
Forum Posts: 105
Member Since:
April 4, 2010

Offline
For Europe, I don't know. My retailer hasn't received new models yet. They do take time to update their website.
As my SHB 101M are nearly new (got them last december), I won't change them for now but I guess I won't change for nothing else than Yonex if I had to replace them. I'm not afraid to spend more for my trainers as it is a very important part of my equipment. 
But do the Yonex top-range trainers offer a real advantage compared to Yonex others trainers ?
Forum Timezone:
Europe/London
Most Users Ever Online: 196
Currently Online:
2 Guest(s)
Currently Browsing this Page:
1 Guest(s)
Top Posters:
Matthew Seeley: 391
Peter Warman: 239
Ed: 186
Dobbie98: 165
gingerphil79: 158
Member Stats:
Guest Posters: 10
Members: 1458
Moderators: 2
Admins: 2
Forum Stats:
Groups: 2
Forums: 8
Topics: 580
Posts: 4711
Newest Members:
Andyjd5507, thlong, angeleena, MatiasMyles, jim_1
Moderators: LW Support: 0, Design: 0
Administrators: AngieS: 0, Paul Stewart: 1283