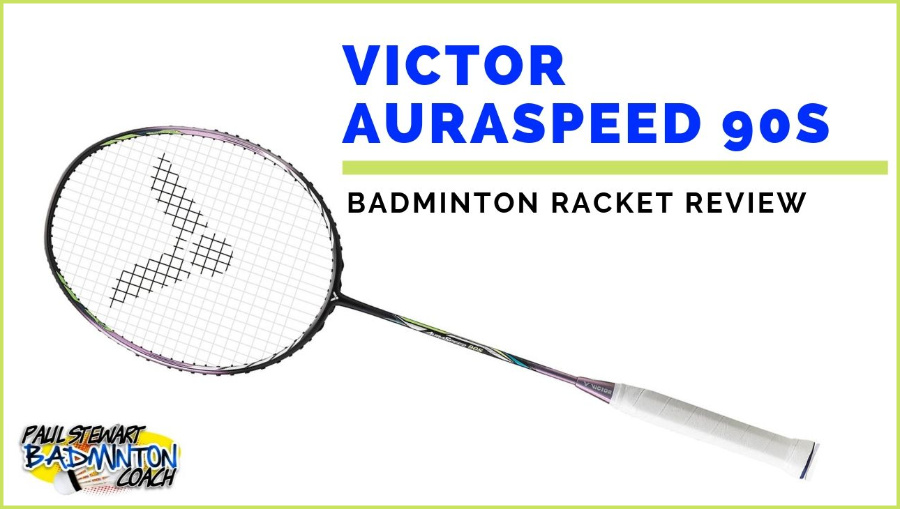 The Auraspeed 90S was launched in 2018 and soon found favour with many international players who previously used Jetspeed 10 as their racket of choice. This immediately gives an indication regarding the specification and playability of this racket and should become a very popular and welcome addition to the Victor range.
On to my review of the Auraspeed 90S
Auraspeed 90S is a mix of classic colours primarily black with green and blue decals with almost a two-tone metallic grey/purple, depending on your view of the frame, on the ferrule and base of the shaft and then again at the 3 and 9 positions on the head. I like it, and its certainly caught the eye of many players during demo sessions. A full length black cover with Auraspeed name in white is also included for the European models.
My review sample is a 3U (85-89g) with a grip size G5, the standard for Victor rackets worldwide. I must point out that the G5 grip on this sample felt a little "big" although not quite a G4. No idea why or whether Victor is testing a new supplier. I would have preferred the slightly slimmer "correct" version.
As with all Victor rackets over a price point, the racket is unstrung and I therefore used the string that accompanies the Auraspeed series, Victor's own superb VBS68. The 3U model will be available throughout Europe whereas Asia will offer both weights.
The inside ridge, first seen on Jetspeed 11 can be seen on 90S too, but it blends more into the frame at the 10 and 2 positions and again towards the t-piece. There is a noticeable sharper edge to the 90S compared to the other Auraspeed models which is welcoming, very Bravesword. The swing speed of this racket is somewhat faster than the other models, although doesn't quite match that of Bravesword 12. The frame is also slightly slower than Jetspeed 10.
Victor describes this racket as medium-stiff and medium/head-light. I'd agree with the flex but felt a medium balance would have been more accurate. There's certainly a weightier feel in the head compared to Bravesword 12.
Considering my preferences in a racket, some will expect me to struggle with 90S and it's a reasonably fair expectation. Despite that, I enjoyed testing Auraspeed 90S. Swing speed is very fast which I really liked, and with slightly more flex, it will suit a greater range of players.
Despite the lighter head, I was surprised at the power generated. The head is stable and you can rely on the racket to play the shot without fuss, delivering power and accuracy. It is an easy racket to play with, just pick up and play.
Clears were crisp, with a little extra snap rather than trying to force the shot. I really like the head speed and at no time did I lose the feel or sense of where the head was. This can happen with super-light rackets. Whilst I prefer a heavier head, this is one of those rackets that I can gravitate to, because there are so many plus points.
With such good aerodynamic qualities, drop shots were fun. The head turns so nicely to allow for a good slice, a clip, reverse slice…I was having fun. All of these can be played with a little less effort and a shade more speed…nice!
Smash was good too allowing for a range of half, slice and full shots to be delivered with relative ease. I enjoyed practicing stick smash which I rarely use, however, Auraspeed 90S almost invites the variation over simply hitting hard. The racket does not tire the arm which is useful when sustaining the attack against a good defence. The aerodynamic frame and lighter head provide excellent swing speed for a good, controlled attack.
Mid-court shots were fabulous with 90S. With little backswing, fast, flat exchanges were great. There's lots of control on the soft shots to the net too or getting the weight right for mid-court pushes. It also moves fast for those tricky interceptions. As such, this will be an excellent doubles racket.
As expected, the lighter, aerodynamic frame is superb in defence. Irrespective of the shot I choose, there's control and accuracy. I love the feel on the racket face taking the pace out of a smash and directing the shuttle into open spaces. There's power too allowing fast drives to feel punchy and controlled. Lifts to the rear court were strong too. Defender style players will love this racket.
The Auraspeed 90S already demonstrated its versatility in the rear court and mid-court. It's also great in the forecourt where short movements and speed are essential. I can't fault this racket around the net. It's so quick, manoeuvrable and yet powerful at the right time, or stable when calm hands are required.
Victor Auraspeed 90S – Summary

Auraspeed 90S is the new top-of-the-range model. I'm sure it will be a huge success, possibly replacing Jetspeed 10 which will no doubt be withdrawn from the range in the next year. Many international players have already made the switch which is encouraging. It's also a great replacement for Bravesword too although I'm sure there are too many diehard players that will continue using theirs until they break.
For a light-headed racket, this is surprisingly a great all-rounder. There's superb racket head speed combined with a stable frame. Good power from the rear court together with excellent manoeuvrability deliver an all court game that is a pleasure to play with. Additionally, the racket looks great!
For those who still need a little extra weight, do not fear, there will be a heavier headed version in the 90K, due soon.
RRP on Auraspeed 90S is a whopping £220 but retailers are already discounting to around £175. Personally, I feel these prices are getting too high, but there again, I remember saying that years ago when I saw the first £100 racket. Of course, this is also due to the adverse trading conditions and exchange rates caused by the current situation in the UK. But, it's still a hefty price increase compared to the cost of Bravesword 12 or Jetspeed 10 so it may be off-putting for players to switch.
In summary, Auraspeed 90S is a great racket, delivering a superb range of options for you. I thoroughly enjoyed testing this racket and gave serious consideration to using it ahead of my Thruster F. The downside is the price which will reflect in my score of 4.5 stars