In 2011 Yonex launched a host of new Arcsaber badminton racquets to compliment this very popular range. Aside from 9FL which I have already reviewed, the new racquets introduced to the range are 002, 003 and 009DX.
This is the first of three reviews to update you with my thoughts on these new racquets…
The Yonex Arcsaber 002 arrived in a three quarter racquet bag rather than the usual full length version. I actually prefer these covers because it makes it far easier to do my armchair exercises. Additionally, most players use full racquet bags so the bigger cover takes up a lot more room.
The racquet has nice graphics in white, red and a darker red. It is a 3U (weight 84-89g) G4 (small grip) version. Arcsabers are known for their even balance and this one is no exception. It feels good, not too heavy, even though I prefer a head heavy racquet.
It's hitting time…
As usual I tested the racquet without custom stringing. I must say Yonex appear to be stringing their racquets tighter these days and that's a good thing. For a racquet like this, the customer should be able to play without needing a custom re-string. Maximum string tension is 24lbs which seems to be standard from Yonex.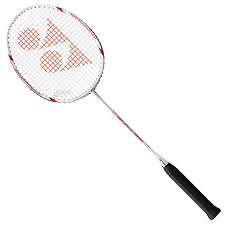 From first hit this racquet flowed really well. Adjusting for the lower string tension and flexible shaft, the racquet does hit the shuttle with a nice standard solid Yonex feel. As you would expect, there is very little torsion because Yonex use built in T pieces which really aids stability. This is something I've always liked about Yonex because the racquet helps deliver the shuttle where you want it to go even if you hit off centre. Some other manufacturers' racquets do not have this torsion stability which means off centre hits result in too much twist in the racquet face sending the shuttle out of court. This twist can also create arm injuries.
The racquet head is not as aerodynamic as others in the Yonex range, so there is an element of resistance or drag. That's not necessarily a bad thing because it's the same with many racquets. It's just there and worthy of comment. Aside from that, the racquet hits really true and doesn't let you down.
Even at this level there's a degree of power there which is partly due to the flexible shaft and lower tension. I didn't expect to hit smashes as hard with this racquet and therefore it did not disappoint. But, the racquet still delivers power and whip for both overhead and underarm shots.
Defensively the racquet felt very nice. The even balance made life a little easier with regard to reaction speed, although for me I'd still stick with a head heavy racquet (personal preference). But, 002 remained solid and performed admirably. As you would expect with a lower tension, I had to put a little more into making the shot, but that's fine and perfect for a developing player as it forces them to play the shot fully.
Around the net, the racquet was fast enough. It's not going to be as fast as a Nano frame which is designated head light. But, it still gave a good account of itself with good movement. I didn't feel as though the racquet was lagging behind and not being "there" for me when I needed it most.
Summary
This is a very nice racquet indeed. It's one of those racquets that's going to appeal to a wide variety of players. I can see this being a favourite for club players as well as recreational players. It's not going to totally amaze you but it'll quietly go about its job and conservatively deliver for you.
What amazed me most was the price. With an RRP of only £40 this is a real bargain. No doubt online discounters will lower the price even more and I expect prices around £35 mark. That's great value for money in my opinion. With this in mind and taking into consideration other racquets I've tested recently, I believe this racquet deserves a three and a half star rating and a good pat on the back.
Overall I was pleasantly surprised with this racquet and it really made me think about the ratio of price against racquet delivery. Do the top-of-the range racquets really delivery 3-4 times more than a racquet at this level? At the end of the day, value is in the eyes of the player and how they feel a racquet plays for them.