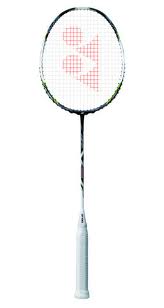 Without doubt the talk of the badminton world, in particular friends of Yonex, for the first quarter of 2012, was the new racquet used by World No1 Lee Chong Wei. He won the opening two tournaments of the year using a mysterious new racquet, which created a huge amount of interest from players scrambling for information regards to the name of the racquet and when it would be available for purchase.
Fast forward to March 2012 when the new Voltric Z Force was finally launched to the world. Initial data suggests it's stiffer and heavier in the head compared to VT80. It also has a thinner shaft and slightly smaller head. This was sounding like Voltric's version of Arcsaber Z Slash.
After many weeks of waiting, I've finally managed to test this racquet. So let's get on with the review and see if the initial data is correct and how this translates into playability on court.
Voltric Z Force arrived in the standard Voltric cover. It's a good looking racquet although unusual colours for Yonex combining a matt finish in black/dark green and white with metallic lime green flashes – very nice but won't be everyone's taste. Reading on the forums I gather there have been a few issues with the paint/stickers coming away from the frame during stringing, although I haven't witnessed this myself. If true, then this is poor for the top of the range racquet from the premium brand.
The Z Force also has a white grip which will soon discolour through use. Whilst it looks good, it's not very practical unless you apply overgrips. On the ferrule there is a new style hologram which is very colourful and probably Yonex's latest attempt to prevent copying.
This is a standard 3U (weight 84-89g) G4 (small grip which is now the norm for Yonex), version. Overseas there is a 4U weight available but in UK we only receive one weight and one grip size so we do not have the luxury to choose a different profile. This could be important, especially for doubles players needing the lighter frame for speed.
The racquet is strung reasonably tight in Yonex BG65Ti string, so at least it has a quality string, albeit the tension is a little low. Most players buying this racquet will have the racquet custom strung so it's a bit disappointing that we do not have the option to purchase the frame only – which is the standard offering in many countries.
I also noticed the string pattern was different to that on VT80 and seems to follow the same pattern as Z Slash. It's clear there is an extra cross string at the top of the frame and one less towards the throat. Maximum tension on this racquet is 27lbs which is sufficient for most players.
Whilst the racquet measures identical to VT80, it's clear that the handle is longer by around 5-6mm and the shaft is shorter by the same margin. The shaft is also thinner. A quick flex confirms that the shaft is considerably stiffer compared to VT80.
The head of the Z Force is also shorter by 5-6mm and considerably wider which suggests a requirement for added stability, strength and weight. It will be interesting to see whether there are timing issues with this racquet as we witnessed with Z Slash, because of non-standard size head.
It's hitting time…
I must confess that prior to testing this racquet I received an injury which caused me a lot of pain and discomfort in my upper back. The question for me as I stepped onto court was whether this racquet would help me or result in a short session and a need to test again. Sadly for me my injury was worse than initially thought and I couldn't even lift my head properly to look at the shuttle which precipitated me abandoning this test session.
I will continue this review and edit in a few days when I can hopefully test the racquet properly.
Three weeks on and my injury is clearing although is far from resolved. However, I have been on court and tested the Z Force.
Hitting clears with this racquet is a joy if you like head heavy racquets. The extra weight in the head is noticeable and extremely powerful. I loved the extra control I felt through guiding the weighted head and the additional accuracy I got as a result. Excellent. Nice, easy, simple strokes of the shuttle sent the shuttle where I wanted it. Boy, this is even better than VT80 – and that's saying a lot!
Moving on to drops shots, again I loved the extra weight. There was a greater feeling of solidity in the shots, something I've never felt before. I also felt I had the ultimate control in terms of placement and again the results in the shots were better than my VT80.
The big test was next. What's it like in the smash department? With my current injury, I wasn't able to put any effort into this shot which was incredibly disappointing. However, half smashes were very good and accurate. Handing the racquet to Mark was very interesting. Mark normally uses Arcsaber 8DX and is a hard hitter. However, with Z Force he was booming smashes. They were travelling towards me like rockets – easily the best he's ever hit. So, whilst I wasn't in a position to check for myself what Z Force could do, I was the recipient of its awesome power and accuracy.
Defensively the Z Force has a few tricks up its sleeve. Let's be fair here, this is not going to be the quickest racquet in defence. However, the aerodynamic Voltric frame was still very fast. The weight again provided that extra solid base and punch in the returns, so I found I wanted to drive the shuttle rather than lift it. Blocks were fabulous because I could use the smallest movement to get a good result. It would be very interesting to test a 4U weighted Yonex Z Force and compare results.
When I originally tested Arcsaber Z Slash, I commented on the timing issues this racquet presented. I am pleased to say that the Voltric Z Force did not display any of these problems. I did miss-time a couple of defensive lobs, returning one of Mark's powerful smashes, however, this was purely me getting used to the weight of the racquet and the speed my hands needed to work at compared to my VT80.
Moving on to the net area…
A few minutes attack verses defence with me attacking at the net proved interesting. This is where I felt the racquet was weakest. After a few minutes play I was getting tired. Normally this isn't an issue and I cannot blame my injury here. Moving the weighty head at speed over short distances proved difficult and I soon began making errors and slowing down. This is where I a 4U version will shine, although it won't be available in UK.
I was capable of playing net shots, but when you need to accelerate and stop the racquet over short distances it really doesn't like it. That's not what it was meant to do. In singles this is generally not much of an issue as the game is played at a different pace. However, for doubles, speed is important and Voltric Z Force was definitely slower in this department. My Voltric 80 out shines the Z Force around the net and if truth be told I feel this also applies defensively, although I really love the feel of Z Force defensively.
Summary
Let's be honest here, this racquet is not for everybody. With only one version available in UK, the heavier version, there are only a minority of players who will really suit the racquet. However, because of the endorsement of Lee Chong Wei, or the fact it's the top of the range Voltric, I'm sure many will be sold on this basis – not very wise reasons for buying this racquet.
Overall, I really liked the racquet and in many respects in out played my Voltric 80, mostly from rear court. But, this is what it's built for; power, accuracy, and feel. The beauty with the Z Force is that it doesn't suffer the frame timing issues of Z Slash so Yonex have learnt or listened before launching this racquet.
It's not as good defensively although it is still very good and where it really lacks is the short speed shots around the net.
What I did like a lot was the overall solid feeling this racquet has and immense power it's able to unleash for the right person. Bear in mind here, if you do not have a powerful smash and/or good technique, this racquet is NOT going to make you a powerhouse on court, although it will give you a bit more oomph in the power department.
RRP for this racquet is a whopping £210 in UK although online discounters will be selling for around £180 mark. It's very expensive and as I said earlier, Voltric Z Force badminton racquet is not for everybody. It's a lot more than just a one trick pony and what it does do well it does better than any racquet I've tested before. But, it cannot deliver a full package at this level.
My article on choosing a racquet suggests that there are a number of key questions you need to ask yourself before considering choosing a new racquet. Essentially what do you want the racquet to give you more of and what are you prepared to accept slightly less of. In the case of Voltric Z Force, these questions are very important, bearing in mind the additional weight in the head and the stiffer shaft, which combine very well but cannot give you everything on your wanted list.
I've thought long and hard about my score for Voltric Z Force. Price is a huge consideration although value for money is the correct expression. In terms of delivering outstanding overhead power, feel and accuracy it scores well, but there again there are those weak areas.
To wrap this review up, I give Voltric Z Force a four star rating. It's good, it's great, and it's better than OK. Would I change from my beloved VT80? I don't think so, but I may just keep one in my bag from time to time to test again when I am fully recovered.