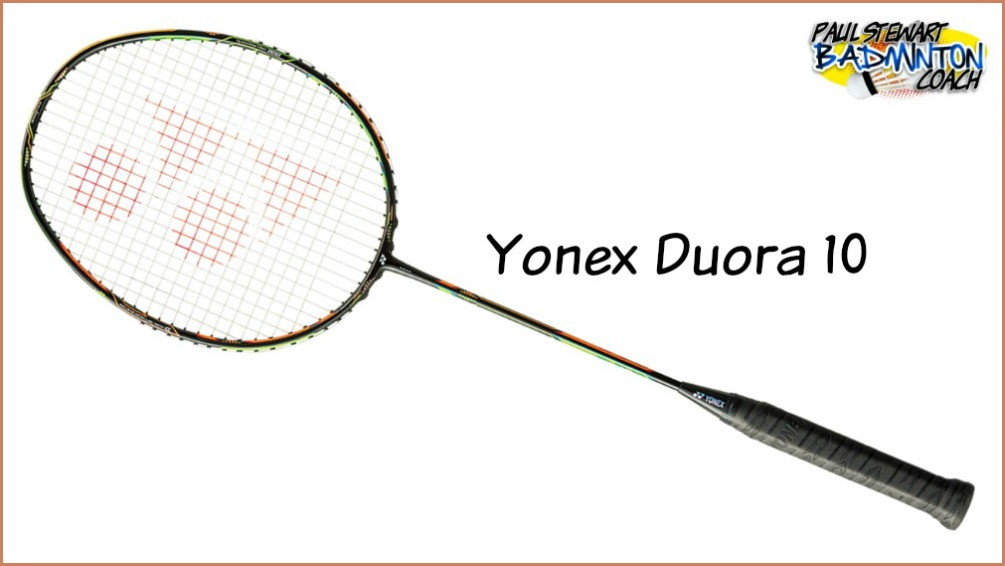 Yonex Durora 10 Background
Yonex launched the Duora 10 in 2015 departing from their historical tradition of introducing a new range with the number 7. Yonex has already experienced success with this racket winning a number of Super Series competitions, as this is the racket used by the great singles player from Malaysia, Lee Chong Wei.
In some respects this is a ground-breaking racket with a newly designed frame. What's so special if you take away marketing hype? The frame is a new shape providing standard "box" construction on one side of the head and much sharper "cutting" edge on the reverse. The idea is to provide a faster, more powerful swing and typically this faster side is used for backhand shots.
The Yonex Duora 10 arrived in a full length Yonex cover – the usual quality. The Duora logo looks great in black – very understated. The racket was pre-strung with Yonex BG65Ti string so the tension is low for good players. Yet again the logo lasted all of five minutes on the string – very poor and this is now becoming a joke. Come on Yonex. I appreciate most players will ask for a custom restring, but please do not offer such a ridiculous cheap ink job on such an expensive racket.
This is a great-looking racket in black with green decals on one side and orange on the other to reflect the different sides of the frame. This is an even balance/slight head heavy frame, stiff shaft. Weighting is 3U (85-89g) with grip size G4. I prefer grip size G5 these days however, as I have used this grip size so much in the past, it felt like an old friend picking up this racket.
I always get a buzz when testing Yonex products. I want the racket to play so well and I hope this racket isn't as disappointing as some of the previous samples I've tested…
As you can imagine, a racket that has two different sides needs to be tested. Of course, I've got to see if the faster "backhand" works on the forehand too. Having played with so many aerodynamic frames recently, initially I felt Duora 10 was a bit slow through the air. Is it just me or is it that I've not used a 3U frame for some time? Mmm, pondering this one.
There is certainly a difference in feel between the two sides of the frame. Saying that, these are not massive differences in speed, so please don't expect greased lightning speed here. You can achieve the same and more with a good aerodynamic frame.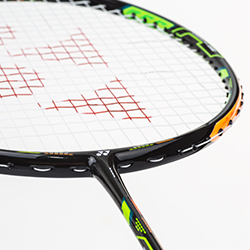 With the manufacturers tension I still hit well with good connection. Yes, the string tension wasn't to my preferences but there again it's strung in BG65Ti, a string I know very well. Overall, once I was used to the feel of the racket (which didn't take long) I enjoyed my time with Duora 10. My clears were very strong and I had to ease of the hitting at times to keep the shuttle in. I expect this racket will play even better with a higher tension string and then it will deliver really sharp, crisp clears. A good start!
Drop Shots
Drop shots were really nice but I couldn't decide which side of the face I liked best. There's the usual solid feel you'd expect from a Yonex racket and then a quick spin in my hands and there's a slightly different feel with the head cutting through the air that little bit faster. You've really got to know the feel of the grip to determine which side is which. This will bring a few more possibilities to some players but only when they control the grip/head of the racket.
I really liked the feel of a 3U racket again. There seems to be a shift towards lighter frames which I can understand on head heavy rackets. But, care has to be taken that we don't take too much weight out of the frame and make the feel too "thin." Duora 10 delivers nice solid drop shots with accuracy.
Onto the smash
The speed of the frame combined with the slightly weighted head and that 3U overall weight were excellent in delivering power. Of course Lee Chong Wei shows us how to use Duora 10 best. My testing pal Mark enjoyed the slow side of the racket more for his smash rather than the fast side, whereas I wanted the fast side as my forehand and slow side for backhand. Ah well, player's choice is fine. The important point is that we both got something out of the smash, despite the string tension.
Flat drives and pushes
Flat drives and pushes were so easy and this time I preferred the fast side on my backhand. Now this is getting confusing as it's impossible to switch sides depending on the shot choice. The racket played well although it was noticeably slower compared to some rackets I've tested recently. That said, I'd stick with this 3U version to provide that extra punch in "tap" shots.
The Duroa 10 defends well even though it's not the quickest racket I've used. Compared to Z Force II it's a doddle so let's keep matters in perspective…feel is always relative to the racket you used last. I'm sure Duora 10 will be favoured over a number of Voltric frames, especially now that Lee Chong Wei uses it. Additionally, there are a number of top 10 ranked mens doubles players using this racket, noticeably Boe and Mogensen have recently switched from their Arcsaber 11's.
The net area was more cut and dried. The fast side on backhand again allowed for nice short, sharp taps to the floor. Net shots came off really well but you need to have good technique to get quality results.
The slightly lighter head, compared to Voltric allowed for a much faster response when hitting down, or pushing into mid court zones.

I hope in this review I've answered one key question… does the technology work? In my opinion it does, and Yonex should be congratulated for their forward-thinking design.
Personal preference aside, the Durora 10 is a really nice racket. It's a stiff frame so not too many players will really benefit from selecting this frame, although I feel it's more forgiving compared to the stiff, head heavy Z Force II. So, in contradiction, it could appeal to more players.
RRP is £190 which is expected for a top of the range model. Online stores have already discounted to around £140 which I think is good value for money, especially for a top-of-the-range racket from Yonex.
Overall, this is a very good racket. It's certainly worth a test to see if it helps your game. The difference in the frame could possibly be greater although not my much. I'm not raving about this racket as much as I wanted to. Some will undoubtedly think this is bias towards another brand. It's not. Perhaps I've tested too many rackets and there isn't much to see or say? As much as I like the racket, it just doesn't ooze that special feeling I want from a Yonex racket. I wanted this racket to be so much more and it simply didn't ascend to the pedestal I had placed it on. That said, I'll still give it 4.5 stars and a thumbs up.
Thank you Yonex for trying something different. It has worked and I hope, over time there will be many more Duora frames to test and review. I can see the Duora range being as successful as the Arcsaber range which will surely disappear within the next year or so.