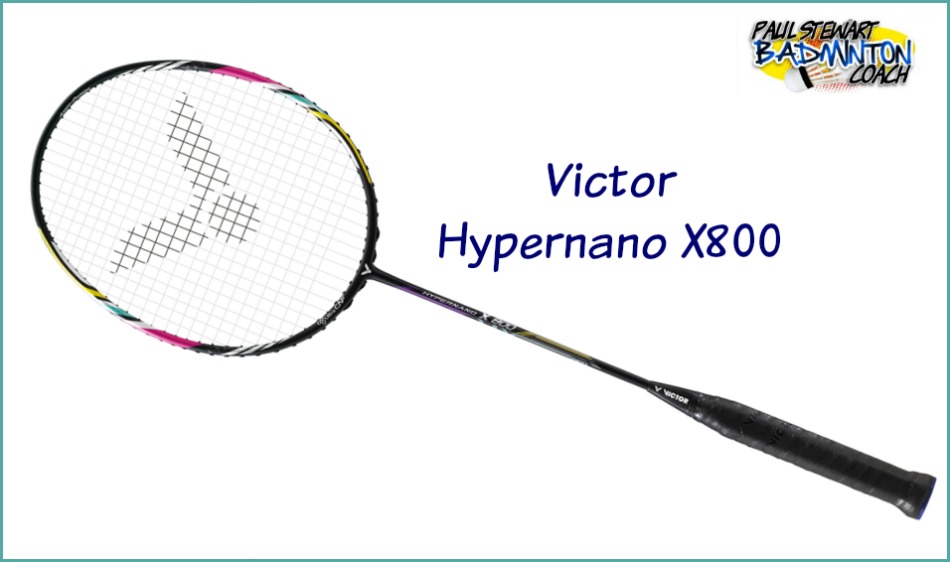 The Victor Hypernano X 800 was introduced in 2015. I first saw this racket whilst stringing during the All England Badminton Championships in Birmingham in March 2015 as there were a number of Korean players using this racket. Since then the racket was launched in Asia and is due for release in Europe this month (March 2016).
The Hypernano range is designed to replace the Meteor range which has been very popular amongst international and club players. The Hypernano is considered an all-around racket i.e. not too head heavy and more even balance.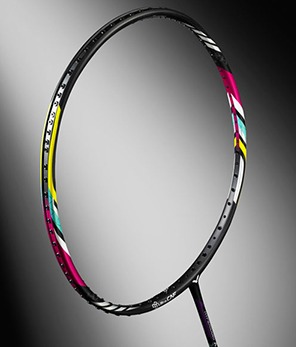 The Hypernano 800 arrived in the black racket bag with the Hypernano branding. Readers of my reviews will know my thoughts on these type of bags…they're not the best covers for high-end rackets.
HX800 is a great-looking racket in matt black with multi coloured stripe decals on the head. This is a 3U version (85-89g) G5, small grip. The racket arrived unstrung so I selected my favourite string Ashaway Zymax Fire 66 and restrung to 25lbs as this will eventually become one of my demo rackets. This is an even balance/slight head heavy frame and 4/5 rating for shaft stiffness and feels really good. I'm assuming this is because I like slightly heavier rackets and whilst 4U appear to be the norm these days, I still prefer the weight of a 3U.
I must confess that I had no idea how this racket would feel or play. Would it be one of those out of the bag brilliant rackets or give me a lot more to think about?
My first few hits with Hypernano 800 were really good. This is a fast frame. There is a distinctive feel to this racket that I haven't felt with other Victor frames and it's difficult to describe. There's almost a lightness to the impact, some would describe as hollow but I think it's more than that. It's a brighter feel and one I can imagine some players not liking. Having tested so many rackets it didn't bother me.
My clears were good and I didn't feel as though I needed to use more effort to hit them. Many were too long which was a surprise. Whilst the frame is slightly head heavy (the shaft says even balance) in some ways I wonder why it swings so light? Perhaps this is a combination of the speed through the air and the construction of the frame? Whilst I can't put my finger on it for me this is a keeper and a racket I will continue to use.
Drop shots were quick and I always felt in control. There isn't any drag to speak of and it was nice to hit the slice shots so easily. Using a 3U weight really felt right and gave me a lot of satisfaction. There's a wonderful solid platform to the strike the shuttle from due to the weight.
Onto the smash. The speed of the frame combined with the slightly weighted head and that 3U overall weight were excellent in delivering a lot of power. My testing pal Mark noticed a bit more punch in his attack which was pleasing. There's a bit more bend in the shaft too. I can feel it which is unusual for me.
Flat drives and pushes were so easy although I confess I framed a few which is very unusual for me. This is where a felt the bright/hollow feeling in the head most and noticed the head weight a little more too. At least I can still use a shorter swing and feel in control. It could be that I've spent too long with 4U frames and the extra weight caught me out a little on the fast exchanges.
The speed and weight combination of the frame did not cause any issues defending. Good preparation is vital. I enjoyed the additional beef behind the shot and yet loved the speed of the frame to zip through the air and send the shuttle on its way.
The net area was a little more challenging. I had to focus because I'm now carrying a heavier racket with some weight in the head. That said, the racket performed really well. There can be a tendency with very light rackets to lose the feeling of where the racket is. Hypernano 800 does not have this issue which I consider is a bonus. This forces early preparation and a bit more precision on the shot, and then rewards well.

Hypernano X 800 is another great badminton racket from Victor. I expect this to be their Marmite racket… some will love it and others will simply not take to the feeling generated from the head. That light, bright, hollow feeling will delight or annoy some which is understandable. I really liked this racket to the point that I use it all of the time. I love the 3U weight and that more solid feeling in the hit, no matter what shot I am playing and I'm delighted to see another 3U racket in the top of the Victor range.
RRP is £190 which is expected for a top of the range model. Online stores have already discounted to around £145 which I think is good value for money. Whilst I am using this racket personally, I do think it will have less appeal compared to the highly successful and thoroughly deserved Jetspeed 10, even though it's a great looker. On this basis, I have to reflect this in my rating and therefore give it a 4.5 stars. Whilst I recommend this racket, it's always best to test before you buy.