I always look forward to the commencement of a new calendar year. There's fresh hope in the air and for me a few special birthdays to celebrate before my favourite week of the year, the All England Badminton Championships.
Stringing for Team Victor at the All Englands is a great honour and responsibility. After all, we are looking after many great players who, on their day, stand a chance of winning this coveted tournament.
This is my fourth year as head stringer. Both myself and Mark are a good team. By mid-February, we had completed all of our pre-tournament work and made initial plans for travel.
As usual, on the Sunday night I dismantle my stringing machine and collect all of the necessary accessories for the trip. I've already packed my clothes and nutritional products for the week. I printed all of our signage, so all necessary paperwork is done. One more sleep and I'll be off.
On Monday morning I'm awake at 5am. I spend an hour running through my emails and social media before going for a run. I'm then showered, changed and travelling to Manchester to coach a student. I'm home by noon and have an early lunch. Mark is due to arrive at 1pm. Before then I need to pack the car with my equipment.
Mark arrives by 1.15 and we're off! We're chatting excitedly in the car and planning what order we will get our preparations completed. And then, we hit traffic! The dreaded M6 strikes again. Eventually we arrive at our apartment. We are allocated an apartment and drive the car to the designated car park. Before emptying the car, we check out the apartment. We're unhappy. This apartment is in the worst location for the players, so I return to reception. Finally we are allocated another apartment. This time we're in block A – fantastic as it means we are close to the Korean team.
We check out this apartment and bump into Kim Ha Na in the lift. She sees the Victor logos. Upon entering the apartment, we realise we have a great view of the arena and we have a balcony – ah, even better as we can now hang a Victor banner to show the team is here.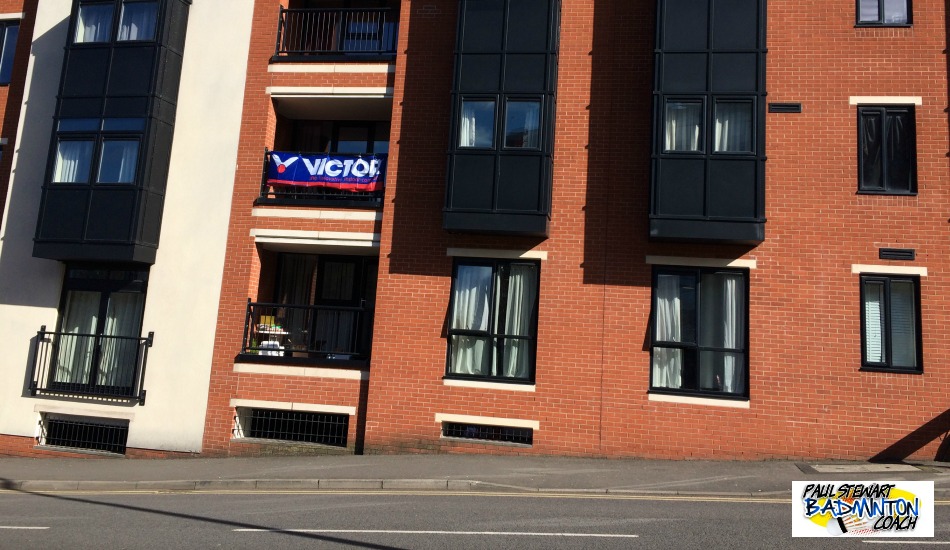 Within the hour the main lounge/kitchen area is transformed into the Victor stringing room. The stringing machines are on, cleaned and ready for action. The dining table is now the re-grommeting, racket stencilling and player stringing requirement area. We have two couches, one is designated for "rackets in" and the other for "racket collection."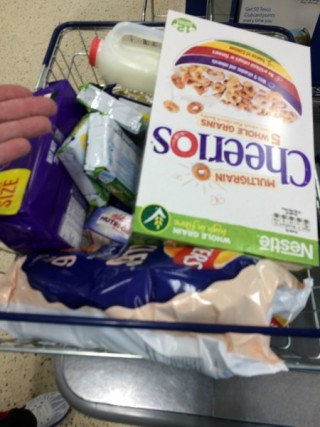 It's time to walk to Tesco's and complete food purchases. Of course, it wouldn't be the All Englands without Mark purchasing numerous loaves of bread and packs of cheese slices. I smiled as he walked down the bread isle and couldn't resist a photo. Once Mark had filled his basket I had to take another photo – it's the done thing! Let the banter begin. I immediately text Ben who will be joining us on Wednesday….guess who's shopping basket this is I asked? You can imagine the reply!
OK, it's around 4.45 and we unpack our shopping. Mark goes downstairs to begin setting up our posters so the players know we have arrived. I contact Victor in Taiwan so they can contact the team managers and pass on our location details – we are ready for action and team Victor is ready to win!
Within 10 minutes of our signs going up we have our first visitors. It's Solgyu Choi and Jeon Hyeok Jin. The Victor badminton stringing team is in action. Following this we had a wave of players from team Korea bringing rackets. A couple of hours later, one of my Victor Ambassadors brought rackets from the Malaysian players.
Suddenly we had 41 rackets to restring and the pressure was on!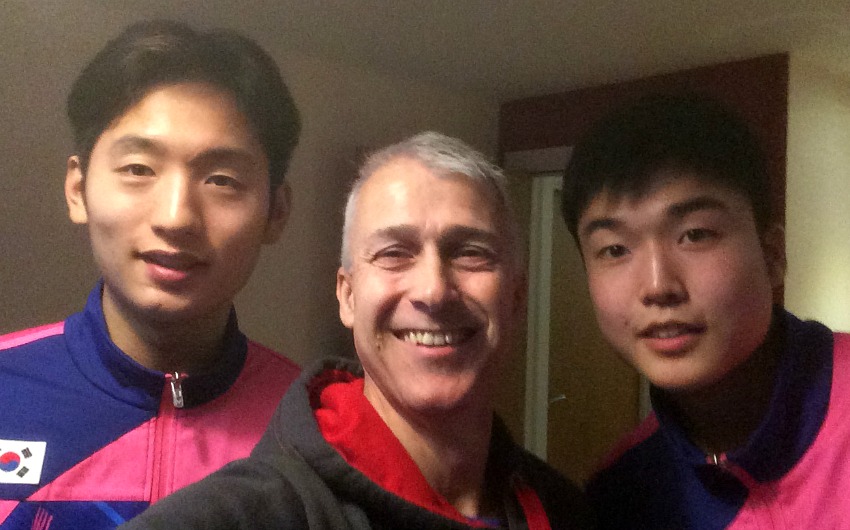 Some of the players would require rackets for training or for the qualifying round play on Tuesday. This meant we needed to keep stringing for as long as we could. It was decided that I was going to do an all-nighter and Mark would work until 4am and then get a few hours sleep. Writers note: please do not leave Mark in charge of the remote control on the TV – his choice of programs was just rubbish!
Tuesday arrives and we're making great headway. It's around 10am and most of the rackets from Monday night are restrung and looking good. There were around a dozen remaining when the guys from Chinese Taipei arrived. Ah, our plans have just been blasted out of the water with the arrival of 26 rackets for stringing.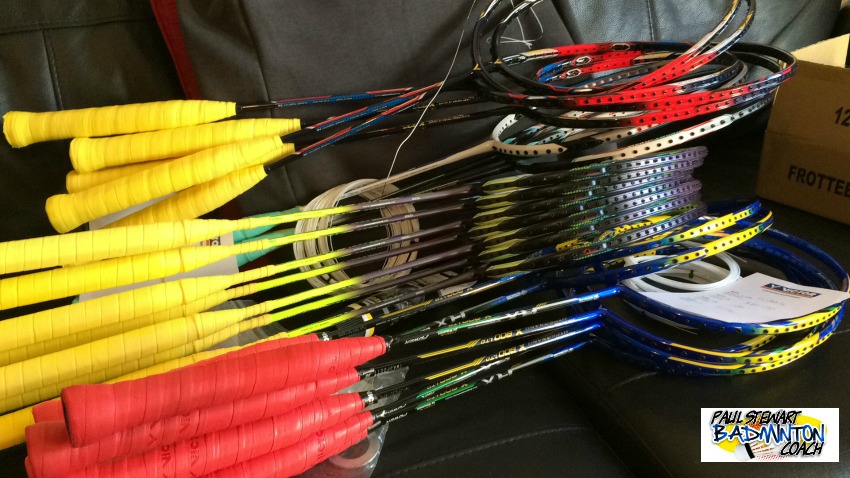 It's going to be a busy day getting these rackets ready for Wednesday, when most players will be collecting and then disappearing into the arena.
Players drop off and collect on Tuesday. During the day I received a call from Ashwini Ponnappa. She needed to drop off her rackets and required one within the hour. Ashwini arrived and gave us 6 Jetspeed 10 rackets. We needed to do some speedy preparation on them. She returned an hour later and collected one racket, returning again later to collect the remaining 5 rackets. She is so lovely to talk to.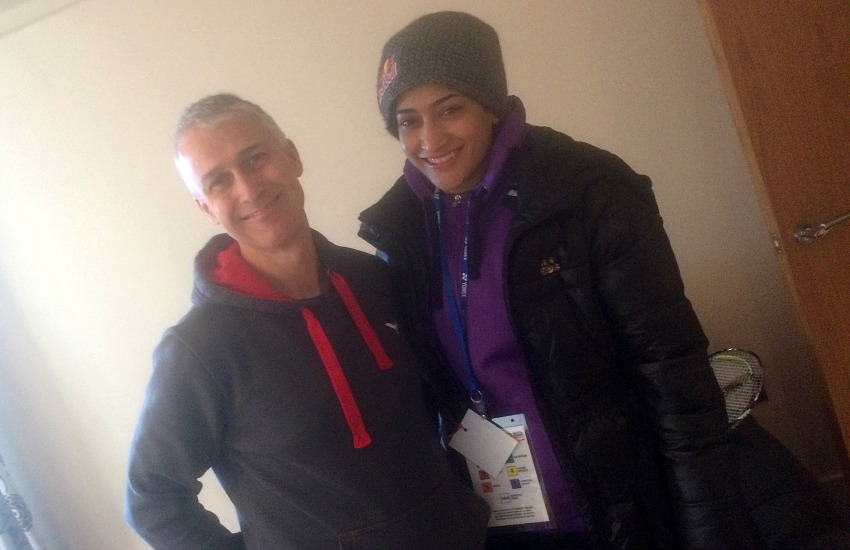 I closed my machine down around midnight. We are tired and very satisfied with the days work. There's around a dozen frames remaining. An early start is planned – goodnight all!