Friday is quarter finals day. It's been a busy week and this day is no exception. We are now catching up on sleep so it's a late morning although we're still stringing at 9am. I have a few rackets to restring for Lin Chia Yu, Tao Ee Yi and Chan Peng Soon.
Play commences later in the day so I have time for a few meetings and yet another lunch with Ben. There's always a lot to discuss with new information arriving every day.
The day passes so quickly and soon we're in the arena, meeting and greeting again. Most of the games went to plan although I was so disappointed in the number one seeds from Malaysia losing in the mens doubles. Having spent some time with Goh V Shem and Tan Wee Keong, I really wanted them to win this tournament.
Friday night badminton is good to watch as there are fewer courts. However, a late finish isn't good when there's a busy day ahead on Saturday. But the atmosphere is great!
On Saturday I had the Victor Ambassadors arriving for a racket testing session followed by lunch. My parents were also arriving so missed the racket testing.
Whilst we've been busy stringing and meeting various people, the Victor sales team also arrived on Monday to set up a showroom in a nearby hotel. They were meeting retailers throughout the week to show the new range for the 2017-18 season.
On Saturday morning I visited our showroom before moving to the Yonex showroom. Having finished all business there, I met with the Ambassador team for lunch where Qin was glued to his phone watching Lee Chong Wei. Yes, we were missing the action, but had to make best use of the limited time we had together. I was so pleased he was through to the final. He had played so well throughout the week.
Sadly, I didn't see any badminton on Saturday as my diary was so full. I managed to squeeze in another meal with Ben later. On Saturday night we finished all rackets and began the task of closing down the stringing room for another year. Most rackets had been returned to the players so we had little to do except discuss the week.
On Sunday, we packed the car, returned a few rackets and walked over to the showroom to say goodbye to the Victor team. Another successful All Englands was over. On the return walk to the car I was stopped a few times from people asking questions. It was so nice to be able to help them.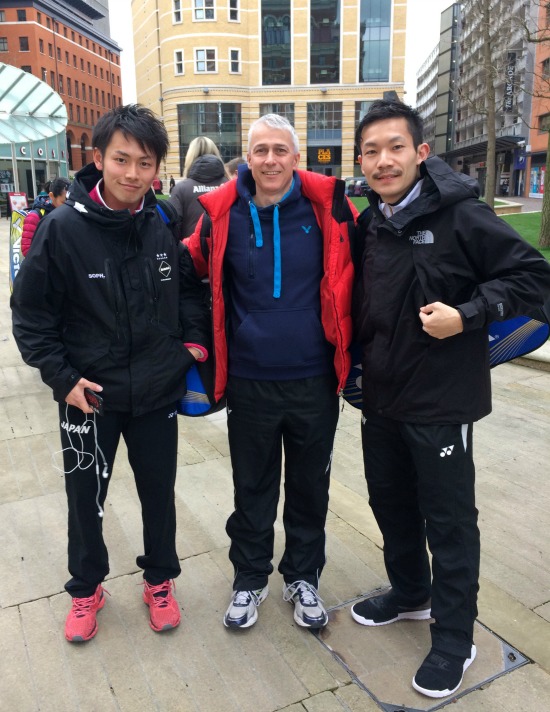 Summary
From my perspective, this was a very different All Englands. It was great to see large attendances  every day – amazing. I enjoyed the stringing early on when there was pressure to restring so many rackets with limited time.
Finally, it's so satisfying to know we restrung the rackets of a title winner!