APACS are a well known badminton racket manufacturer from Malaysia. I have reviewed a couple of their badminton rackets in the past and it's a shame that I rarely have the opportunity to test their latest offerings.  So, with a big smile as I've got my hands on an APACS Blizzard Pro ZZ, let's get to work…
APACS Blizzard Pro 77 badminton racket arrived with a beautiful full length cover in blue, white and gold – a very nice looking cover and good quality too. The racket itself is a combination of white with black, silver and gold decals – classy. This is a 3U version (85-89g) G4, larger grip. I've been used to the smaller grip size G5 in the past. This particular version is huge and measures more like a G3 which isn't the best start. It's a shame too as it's most likely too big for a good percentage of badminton players. In my opinion, G5 is a much better option allowing the player to customise to fit.  *UPDATE: "We go the other way in that G5 is bigger than G4 and G2 being the smallest."
According to the decals, this is a head heavy racket and I suspect medium/stiff frame – a specification I have tested a lot recently. Maximum string tension is supposed to be around 38lbs – my congratulations to APACS for building a racket with such frame strength. I appreciate the majority of players both amateur and professional will not have the racket restrung to this level, but it sends a message that there is quality and strength in the frame.
Quick note, for most players I do not recommend stringing a racket too tight and would listen carefully to your professional stringers advice.  Maximum recommended tension does NOT mean you should have the racket restrung at this tension.
There are a number of odd shaped blue grommet strips on this racket. I hope the company sells spare strips and makes them available to professional stringers. It's the usual concern and sadly it's rare that they are available. *UPDATE: "We do sell the grommet strips at £6.00 and they come in pink, yellow and blue."
(*UPDATE: Thank you to Alan from APACS for taking the time to drop me an email to clarify my concerns raised above!)
As I mentioned earlier, I have tested a number of rackets with similar specifications recently, so I have high expectations of how this racket should play. I hope it performs well.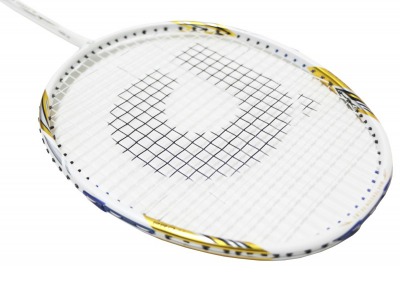 The larger grip doesn't sit well in my hands although doesn't affect my shots. The balance is good and the racket moves well. There's a good solid feel in the hit and the feeling I've with something very similar in the past. I'm sure there was a similar feel to this with a previous APACS frame or possibly the old Yonex Armortec 900 Power? Overall, clears were good, even when hit off-centre.
Drop shots were good too although that grip is annoying me. There's plenty of feel in the head to dial in the correct hand speed to hit the shot. The only issue here is the grip size when attempting the more refined shots like slice and reverse slice. But, that's my personal taste.
Onto the smash. I like head heavy rackets to carry that extra beef in the smash. A high percentage of players are not big hitters. They need this extra weight to give their smash a bit more – I'm the same. The smash from the APACS Blizzard Pro ZZ was pretty good although the frame wasn't quite as quick through the air compared with some of the more recent head heavy rackets I've tested. That said, it's still hits hard and accurate.
Flat drives and pushes can be tiring with head heavy rackets unless you train hard with them. It is expected for these specifications to fatigue the arm and I'm glad that this APACS racket proved to be light enough to handle a prolonged, pacey rally or two without me needing a fork lift truck to keep the racket up.
Defensively this APACS racket is going to be slower and it's important to train your hands to move fast to allow for this. However, the contact on the shuttle is strong and allows for a good feel on blocks to the net, a nice punch in drives and a solid lift… but the hands must work hard to achieve it.
Good hand positioning is essential when playing around the net, especially with head heavy rackets. The racket is slower off the mark and again, good hands are required. The feel is light enough for deft touches. Net kills need control to be effective but can be played cleanly with good preparation.



I had a lot of fun with APACS Blizzard Pro ZZ. Personally, I would have preferred a G5 grip but I can't change that. The head weight was good and not too tall to make playability difficult. There's good feedback from the frame which means it's easy to dial in the right amount of touch for the softer shots on court.
RRP is an amazing £100 and online retailers are selling for around £80. This is a lot of racket for the price and outshines a number of badminton rackets I have tested costing nearly double the price. If you're a head heavy user, then I recommend you check out this racket, especially at this price where you can buy two for the price of one – which makes the deal that much sweeter.   I rate the APACS Blizzard Pro ZZ  badminton racket 4 stars.