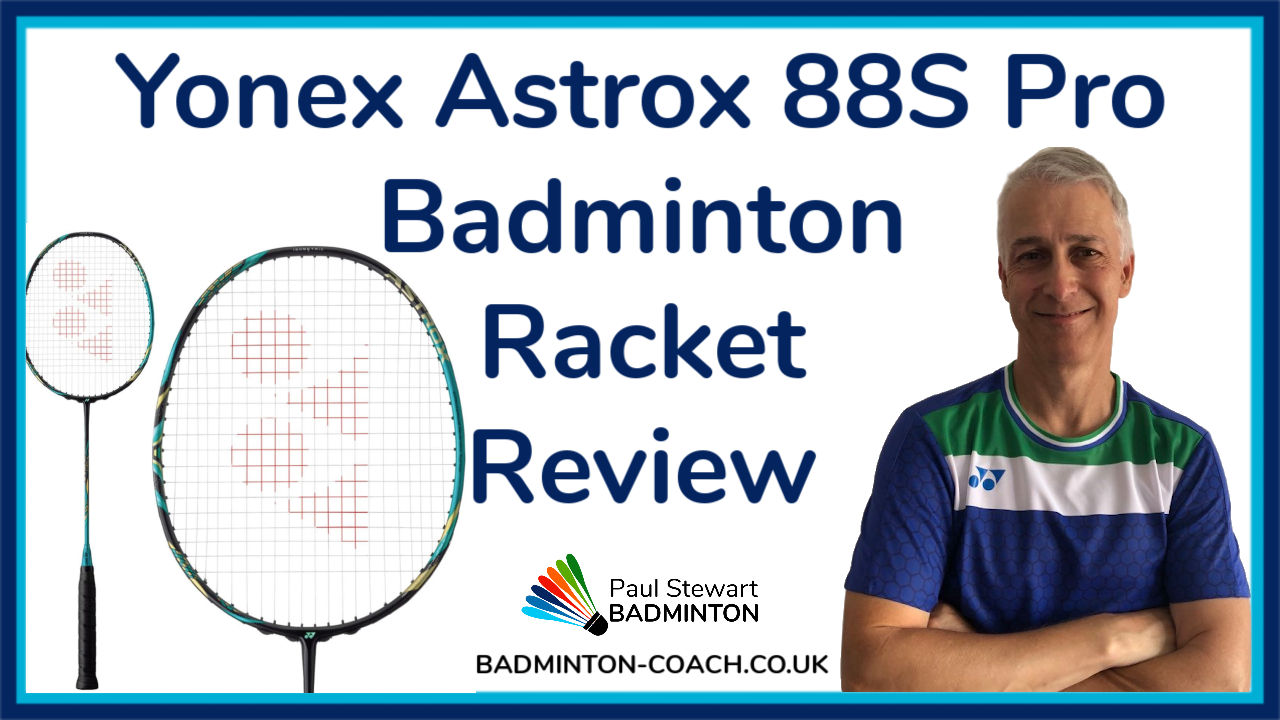 Yonex Astrox 88S Pro Background
Perhaps one of the biggest surprises of 2020 was the announcement that Yonex were withdrawing their top selling rackets Astrox 88. Most would have missed the news with Covid 19 very much on our minds and how this has impacted our lives.
I couldn't understand why Yonex would withdraw such popular rackets with both D and S versions finding favour amongst many of the top international players. Imagine my surprise when I saw the news that Yonex were introducing an upgraded version of this popular racket, in three versions of each type, a total of six new frames.
So, here we are, the first of these rackets has finally arrived. Introduced at the behind-closed-doors All England 2021 in March, and sadly without much fan-fare, the Yonex Astrox 88 Pro will be the upgraded successor to this much-loved series.
Initial marketing promotes innovation behind these rackets which is not always so easy to spot.
On to my review of the Astrox 88S Pro
Continuing the opposing colour theme from the original, both 88's will this time sport emerald blue and camel gold combinations, the main colour on Astrox 88S Pro being emerald blue.
Surprisingly, the racket arrived without the customary full length cover and I am advised Yonex have refrained from using covers due to landfill concerns. I am aware that many players discard the covers so perhaps this is a good time to take a stance. That said, I would have liked the old style, racket head cover to provide a modicum of protection to the frame.
My review sample is a 4U (80-84g) with a grip size G5, my favourite grip size. In the UK there will also be a 3U grip 4 option. Shame as I'd love a 3U G5 option but it's impossible to stock so many options for the UK market.
Comparing 88S Pro with the old Astrox 88S, there are a few noticeable differences:
The frame on the new 88S Pro is fully recessed compared to the original. It's just a worth a mention although I do not expect this will affect playability.
88S Pro has a longer handle by around 1-2cm which shortens the shaft and should result in a faster, more responsive frame.
The shaft looks a touch thinner than the original too and flexes in a different spot. BP on the 88S Pro is 305mm although doesn't feel particularly head heavy. After testing this version, I was able to measure a 3U model and BP was virtually identical, so do not expect the head to be heavier.
The original 88S was weighted more towards the T, and I suspect this is a slightly lighter weight, it certainly feels more even balance than head heavy. This could be an added bonus as it may suit Yonex Arcsaber 11 users.
I chose Yonex BG80 string in yellow at a tension of 27lbs for this racket, as it's closer to the tension I use, having some string left at the end of a reel. The big reveal here is that Yonex have used a new stringing pattern with the top five crosses and number seven shared with a main string, but six cross is a single grommet. That is very different to the original 88S and a pattern I haven't used before. I wonder whether this will also feature on the new Astrox 88D Pro?
According to the Yonex chart, Astrox 88S Pro is situated towards the head heavy zone with a relatively hard feel, whatever that means. In summary, this is a stiff, moderately head heavy racket. This is usually close to my favoured specification, so I am hopeful that this racket delivers.
Quick aside, according to the chart, the Astrox 88S Tour version has similar specifications so it will be interesting to test this racket to get a comparison. Reviews of the new range of Astrox 88's will be completed soon along with comparisons.
It appears that the new Astrox 88S Pro is full of surprises.
The new version swings faster than the original and has a completely different feel. When striking the shuttle, there's a really good snappy feel to this frame and a liveliness on the string bed.
You could almost be fooled into thinking Astrox 88S Pro has a compact head, but it's definitely full size, just a slightly different shape with a different string pattern.
The racket invites a fast hands action and delivers power when called upon with more ease compared to the original.
The slightly lighter head weight could almost fool you into thinking the racket is more even balanced, and maybe some will question whether this is refinement gone too far. I can imagine players who prefer the likes of Arcsaber 11 really taking to this racket, with the added benefit of a much stronger frame.
Power shots from the rear court are really sweet with the racket feeling so agile and yet still packing a punch. Attacking shots are strong with just enough feedback from the head to feel the shot. The speed of the head is impressive and allows a wide range of shots to be played quickly from half smash to cut drops, full smash to attacking clear.
As we moved into mid-court hitting, this racket continued to shine. Flat drives were really easy, with a great feel and thankfully without tiring the arm. The shuttle reacts quickly to the slight change in the head sending it in a different direction. When I compared to the original, the 88S, the Pro version is considerably punchier and quicker.
Astrox 88S Pro gets better and better.
I expected fast reactions and am pleased that's exactly what I got. Some may consider the original is slightly better in defence do to the extra weight in the head. However, I felt that I generated really sound racket head speed in defence with good accuracy, even when the shuttle is placed in those awkward spots. The speed and balance allows for fast response, turning the shuttle as and when required but also holding and weighting the shuttle on a block.
It will be interesting to note how the Astrox 88D Pro performs against this.
Theres enough presence in the head to know where the racket is moving on those fast net kills. Whilst I still feel the almost compact like touch, overall I'm really pleased with the excellent manoeuvrability and the ease in which I can tap into the power.
Yonex Astrox 88S Pro – Summary
Astrox 88S Pro doesn't play or feel like the original.


Whether you''ll consider the Pro is an enhanced version is simply down to personal choice. I think Yonex have achieved a lot with this racket, bringing together an enhanced or hybrid version, almost a joining of Nanoflare 800, Arcsaber 11 with original 88S.
I really like this streamlined frame, the snappier response on shots and the feel on the stringbed due to the new string pattern. Surprisingly, the 88D Pro does not use the same string pattern so perhaps there's a more familiar feel on this racket. Time will tell as I test this racket next.
RRP is £185 as I write this review with retailers discounting to around £148. This is a fair price. It will be interesting to test the other variants on the Astrox 88S to compare and find which version delivers the best value for money. Given the playability of the Astrox 88S Pro, I consider the benchmark with this racket is high and other versions will have to show something special to beat this.
The original Astrox 88's are incredibly popular with professional and amateur players. The big question will be whether they also like the new versions. There's quite a difference between these versions. Whilst I prefer this new, enhanced version in the guise of the 88S Pro, it will take some persuasion to convince players to lose a little head weight for the slimline, punchy version.
Having played with Astrox 88S Pro for some time, I'm really looking forward to testing and reviewing the D version. Whilst I rarely use a racket with this spec, I was so impressed with the 88S Pro, I'd consider keeping one in my bag as it could be an invaluable tool for feeding. It's a very user-friendly racket and I enjoyed testing it.
As I mentioned earlier, it's going to be interesting to see whether the professional players take a shine to the new version and switch. Time will tell. I felt that Yonex had described it well in advertising, seeing it as an upgrade from the original.
The tricky part is rating this racket as I believe it has many good features. Putting the original to one side and looking at the 88S Pro as a stand alone product, I think it has ticked many boxes and deserves a 4.5 stars rating. At a pinch it could possibly go higher but now I'm looking forward to testing Astrox 88D Pro which may prove to be better, who knows?
For now I'll recommend you test this wonderful racket and make your own mind up. I liked it and want to use it again in a direct hit off with the 88D Pro. But, I've far too many rackets to test and review to provide that luxury, although there will be more on the Astrox 88S Pro when I compare it to the other versions, namely the Tour and Game.
Watch this space.