The Yonex Nanoray series was launched in 2011 as a successor to the very popular Nanospeed range. So far there have been mixed reviews and it is questionable whether the change in technology has improved their head light offering. Are these Nanoray racquets really so much better than Nanospeed series or is it pure marketing hype and a need to refresh the range and sell more racquets?
Nanoray 800 is the latest top of the range model, introduced in November 2012 to UK market. One or two players were known to be using this racquet at the Olympic Games in London in August, but aside from that and the usual marketing, very little is known or spoken of this racquet. I haven't tested and reviewed any of the Nanoray range yet, so I am delighted to begin with top of the range Nanoray 800.
The big question regarding the Yonex Nanoray 800 Badminton Racquet is whether it can be rightfully titled the successor to the hugely popular Nanospeed 9900? Let's find out…
Nanoray 800 is a good looking badminton racquet with a combination of silver, black, lime green and purple. The graphics on Yonex racquets have certainly improved and the Nanoray range all look good. As you would expect, the racquet is presented with a full length cover in black, grey and silver bearing the Yonex logo and a smaller reference to the Nanoray range. This is standard throughout the range.
The racquet is a 3U (84-89g) weight and grip size G4 – the standard offering from Yonex these days. Other countries have options in weight and grip size but UK is always presented with one offering. The racquet is strung reasonably tight with Yonex BG65Ti string. So essentially I am testing a stiff shafted, head light racquet.
It's hitting time…
Readers of my reviews and forum will be aware that I am not a big fan of head light racquets. This is because some players incorrectly choose this type of racquet on the grounds they are light. However, use of a head light racquet can contribute to shoulder injuries through players adjusting their technique to throw more into the shuttle in the belief this will make up for their lack of power.
I do enjoy a racquet that gives the feeling that it's a reliable performer and will be your best friend. This racquet shows initial promise here, but will it really rescue me when needed?
I always begin my reviews hitting clears. As expected, there is plenty in this racquet to perform a decent clear with ease. However, there is a very different feel compared to NS9900. Initial impressions are a feeling of a solid performer. The racquet itself doesn't appear to be wider than NS9900, so perhaps there is something in the material composition? Maybe this "sonic metal" does something to the racquet? I understand Yonex have strengthened the lower half of the head so maybe that's why.
Drop shots were nice and quick, very dependable but no way near as delightful compared to Voltric Z Force. They were fast but not altogether solid. The racquet moved through the air with very little drag, which is to be expected. Overall, I'm very happy with the result and putting personal preferences to one side, the racquet did good.
Having felt the racquet had a little something to spare, I really expected it to show me something special in the smash. But, that wasn't to be. Maybe it's me and that I just don't suit head light racquets. However, having played with my trusty VT80, I should have been able to generate pretty decent racquet speed…but it wasn't to be. Not a single decent smash and certainly nothing to compare to what I can do with VT80.
As I thought it may have been me, I gave the racquet to Mark who is more powerful. I was proved right because Mark didn't produce anything spectacular neither…most disappointing.
Neither of us suffered timing issues with the racquet. It's just we couldn't generate any decent power.
Defensively Nanoray 800 performed admirably. This was expected, however, I have no desire to improve my defence at the risk of losing whatever attack I have. A head light racquet is easy to defend with and 800 certainly shone. Again, that tittle extra feel of solidity helped, and made control of the shuttle whether driving, lifting or blocking very easy indeed.
There really were no surprises in terms of performance around the net. It was solid, fast, accurate and I could have played at the net for hours without feeling tired. And, that's without the added benefit of a re-string to my preferred tension.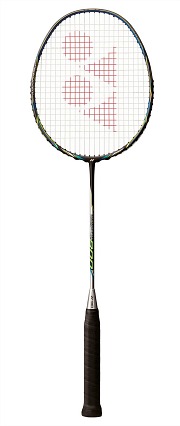 Summary
I have always liked Yonex's marketing of their racquets in terms of the differences in the ranges they offer. It's so easy for players to zero in on a likely successor to their existing racquet rather than having to scan specifications of every racquet in the complete range to single out favourite characteristics.
It's clear Nanoray has successfully replaced Nanospeed range. There have certainly been changes in technology and I felt it in this racquet. However, I almost feel this racquet is too stiff and that's why it doesn't flow as well in terms of delivering power. Whatever is going on, it measures up to NS9900 in many ways, but I'll wager NS9900 is more powerful…but I can't explain why.
I am hearing that there will be a Nanoray 900, although this certainly isn't confirmed from Yonex as yet. Whether they are addressing the power issue is anyone's guess, and whether it will be so much better than NS9900 will be decided by players. If this is true, then I'm really not sure where Nanoray 800 is going to fit in the range. It's been marketed with the phrase "drive to win." Yes, it was OK, but nothing special in terms of drive power. Maybe the slogan is for accuracy rather than power.
RRP on this racquet is a hefty £200, however you will find online retailers offering closer to £130 which is still a lot of money for a badminton racquet. I cannot understand the RRP figure as in my opinion it is a far cry from VT80 priced at a similar figure. However, we are all different and racquet selection is a personal choice.
Personally I feel the racquet is overpriced for what it delivers, however the online retailers seem to have heavily discounted which suggests either it's not been popular with players, or they also have the same opinion as me. At £130 do I feel this is good value for money, bearing in mind this is part of my rating system? Based on the overall performance of Nanoray 800 I consider that the highest I can rate this racquet is 4 star, and it receives this by the skin of its teeth. It's certainly a good racquet and I'm sure some players will get a lot more out of it than Mark or myself. However, my guess is there will be a lot of players who will stock up on NS9900 whilst it is still available and wait patiently for Nanoray 900 or equivalent before making a switch – I can't blame them.