The original Hypernano 800 was introduced in 2015. Then in 2016 Victor surprisingly introduced two limited edition 800's, Power and Control. They have slightly different specifications and it's unclear how limited these rackets are going to be. Are they limited for 2016 or a quantity? Interestingly there are a number of players I've seen using the Power version, which is encouraging.
The Hypernano range is designed to replace the Meteor range which has been very popular amongst international and club players. The Hypernano is considered an all-around racket i.e. not too head heavy and more even balance.
The Hypernano X 800 Power arrived in the black racket bag with the Limited Edition Hypernano branding. Readers of my reviews will know my thoughts on these type of bags…they're not the best covers for high-end rackets. However, graphics are good and they do add some protection to the frame rather than it scraping other frames in the bag.
HX800 power is a great-looking racket in a royal blue and yellow combination – very striking. Unlike the original 800 which had a matt black finish, Victor have opted for the shiny silk finish which looks great. This is a 3U version (85-89g) G5, small grip. The racket arrived unstrung so I selected my favourite string Ashaway Zymax Fire 66 and restrung to 25lbs This is a slight head heavy frame and 4/5 rating for shaft stiffness and feels really good.
Compared to the original HX 800, there is a definite difference in feel and performance. Hypernano 800 Power is a stiffer frame. There is noticeably more head weight and there's a good solid feel in the hit, rather than the glassier, hollow feel of the original. If I had to find a comparison, I would suggest the racket is closer to Yonex Armortec 900 Power in feel.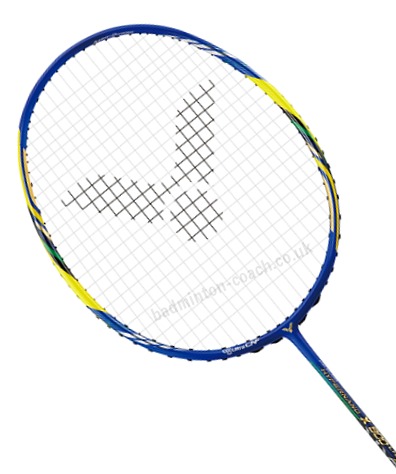 It's rare that I have the luxury of comparing two rackets so closely having both in my bag at the same time. My first few hits with Hypernano 800 Power were really good and brought a smile to my face. This was very familiar feel for me. There's certainly a huge difference in stiffness which was nice although for my personal taste these days it's possibly too stiff. The frame is fast and there's that lovely feel in the head with the additional weight. I certainly knew where the racket was travelling at any time. Unlike the original Hypernano 800, there's a superb solid feel on impact which will appeal more.
Making adjustments for the additional weight and stiffness was easy considering this over the years has been my favourite specification. My clears were really good and I didn't have to work hard to get a good result. As I was hitting a lot, I could really feel the stiffness in the frame. These new materials Victor are using are certainly working well, delivering a great feel in the shot. There was no vibration which made the racket a delight to use.
With the heavier head, you need good hands to hit those half-flick clears rather than full swing. Of course, without the strength in foreams and wrists this will prove difficult so I would recommend completing my armchair exercises if you wanted to use this racket to its fullest potential.
Drop shots were really solid, quick and controlled. There's isn't any drag to speak of and it was nice to hit the slice shots so easily, feeling the weight in the head moving where I wanted it to go. Using a 3U weight really felt right and I also had the chance to test a 4U version that was even quicker.  This provided an interesting opportunity although there's a noticeable difference in head weight and for me, the 3U version was the better option.
Onto the smash. The additional head weight and change in frame construction provided a much beefier feel in the smash. My testing pal Mark's smashes were harder and it was interesting that his level of accuracy was better with this racket compared to the original Hypernano 800. Perhaps the heavier head suits his game better. I agree with this and like I said earlier, the racket reminds me of Armortec 900 Power, one of my all-time favourite rackets. So Victor can take that as a compliment. The stiffness in the shaft ensured that power was transferred quickly into the shot.
Flat drives and pushes needed work to control the additional weight, which is to be expected. However, at least the feel was solid and strong and with good hands, this racket will reward time and again.
Of course the additional head weight means you really have to swing early to time smashes. You need good fast hands to get the best out of this racket. It is slower than the original or Jetspeed 10, but that's understandable. But, when you catch a smash on this frame there's that solid base to drive, lift or block from. Good preparation is vital and I suggest practice is essential to get the best from 800 Power in defence.
The net area is my favourite zone these days. Surprisingly I felt really at ease with this racket, requiring little movement to get a good result no matter where the shuttle was placed. So, under the net shots provided a good solid base to push from and above the net shots needed a little squeeze or hand movement to send the shuttle in a downwards direction.

The Hypernano X 800 Power is another great racket from Victor. In some respects it falls into the wrong camp. Let me explain… The Hypernano range is supposed to be an all around performer. For me, this rackets tips into the Power range. The stiffer shaft and heavier head, combined with the really solid feel provides more power options despite performing well in all areas. I've tested power rackets that don't feel as head heavy as this beauty.
On this rare occasion, it was interesting to test against the original 800 and also have a different weight to test with too. For me, the 4U version lacked the identity of the 3U, although it still packed a punch. It's fair to say it is a watered-down version which demonstrates how important racket weight can be to bring out the best in the component features of a frame.
RRP is £190 which is to be expected for a top of the range model. Online stores have already discounted to around £165 which is £20 or so more expensive than the original 800. However, it kinda has more of everything and I do wonder whether the 800 Power is the true 800 and how Victor envisaged the original feeling? Of course this specification will not appeal to everyone however, for those players who tend to purchase rackets with this specification, then you should definitely test Hypernano 800 Power… it's a cracker! It looks and plays great. So, despite the additional price tag and the flimsy racket bag which I don't like, I still consider this racket deserves a 5 star rating.