Babolat badminton rackets are slowly gaining in popularity, although until now, I have rarely seen one. There are many international players using Babolat rackets although I am unaware whether any are using this particular model.
Babolat have been well known for the quality of their strings. I was restringing with their finest gut for badminton over 30 years ago. Primarily a tennis brand, their racket production boomed following the success of Rafa Nadal. It was only a matter of time before Babolat decided to enter the badminton market. With a good range of rackets, bags, shoes and clothing, Babolat have everything a badminton player could wish for. Let's hope we hear a lot more from Babolat in the future.
Babolat X-Feel Blast arrived with a full length cover. This is shaped to match the contours of the frame to the handle rather than a standard almost rectangular cover.
The black/copper colour combination is very different and works pretty well – a very understated look. This is a 3U version (85-89g) G4, larger grip. The racket arrived pre-strung in Babolat ifeel 70, a black string. I noticed that there are only 20 main strings on this frame so this could have an affect on the feel. Also, the stencil ink has been applied very thick which means the strings do not move. This isn't good and I had to prise some of the strings with my fingers to break them free of the over-inking.
The racket head has recessed grommets which looks neat and tidy whilst also protecting the strings from scraping which happens when players flick the shuttle off the floor. I hope these grommets are available to stringers as they appear to be different to standard grommets. In my opinion, a racket manufacturer should always ensure spares are available when the racket is released.
According to the decals, this is a head heavy racket with extra stiff shaft. I must confess that I wasn't feeling the weight in the head too well and I thought there was more bend in the shaft which made it medium/stiff to stiff.
Generally I love head heavy rackets and have grown up with stiff frames. My choice of badminton racket over the years means I have high expectations on how this racket should perform.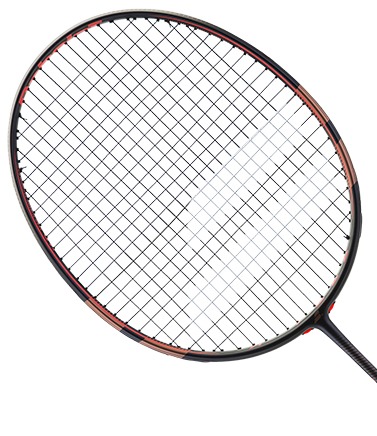 So, after a dozen or so forehand clears, I'm perplexed. I'm not feeling the head on this frame. Furthermore, the string feels dead although a quick thumb test suggests it is strung to a decent tension. Yes, I'm using a larger grip than expected but this doesn't stop me from hitting well, it's merely preference. And, whilst I'm hitting a reasonably good and consistent length, something's not right.
Onto drop shots. Yes, I'm still not feeling this string bed. My shots were OK but I didn't have any confidence whether the shuttle would pass the net or the front service line.  I'm not hearing a good sound either which suggests this string is not working for me at all.
Onto the smash. Sorry to say, it's the same story. By the way, I test a racket on numerous occasions and therefore it isn't just one session when I'm not getting this racket. Smashes felt lacking in terms of power and feel.
Flat drives and pushes were a bit easier. There was no sign of fatigue setting in so this again makes me wonder how head heavy this racket really is. With BP around 305mm this kinda proves my initial assumptions that it's not the head heavy beast I expected. It's pretty quick on the faster flat shots. Not sure whether this is purely the aerodynamics on this wide-beam frame but I like it.
Save
Defensively the X-Feel Blast was pretty good. The head speed was good but the feel on the shot fell short of the mark.

I'm a little deflated at writing this review and desperately wanted to say lot of good, positive comments about this Babolat racket. I do wish to give Babolat the benefit of the doubt here because this racket should work a treat.
If you fancy the Babolat X-Feel Blast, please ensure you ask for the racket to be restrung as this manufacturer string/tension combination doesn't work. Whether it's the over-inked stencil that's numbing the feeling or just the string itself, I can't be sure. But, don't take any chances.
RRP is £150 and online retailers are selling for around £130 mark. It's a pretty good price but not with this performance.  I feel it is capable of delivering so much more given a change of string and tension. Given my thoughts here I am prepared to stick my neck out and give this racket a 3.5 star rating. I sincerely hope somebody who owns this racket writes to me and tells me what a great racket it is.