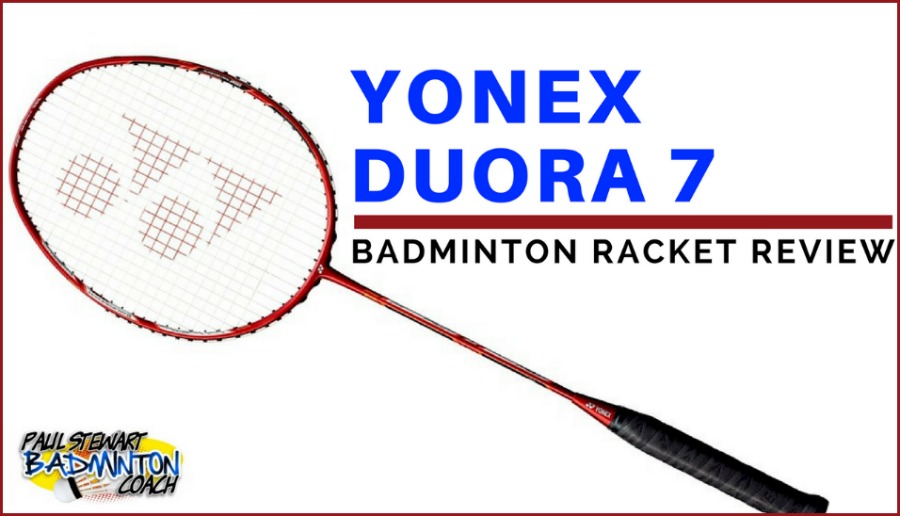 Following the success of the recently introduced Duora 10, it was only a matter of time before Yonex released additional models to the range, namely the Yonex Duora 7 Badminton Racket. Eventually, the Duora range will replace the Arcsaber range as the even-balanced alternative.
There's been a lot of discussion with players about the technology on the Duora series. The frame has a "fast" side and a "slow" side – two distinct profiles merged into one frame. Some say it's a gimmick whilst there are differing opinions on whether they would use the racket. The doubters in general appear to be those players that spin the racket in-between rallies and worry the hand will stop on the "wrong" side. They also worry that their mind will be on which side of the racket is forehand or backhand rather than on the game itself.
Personally, I think this is all unnecessary worrying. There is very little difference in feel between each side to change the outcome of your shot.
As expected, Duora 7 arrived with the now familiar full length Duora cover. The red, black white colour combination reminds me of the fabulous Arcsaber 10 – it's looks great. This is a 3U version (85-89g) G4, larger grip, which is the standard grip size for Yonex rackets in Europe. Whilst I'd love to have the G5 option, I understand and appreciate the business challenges in delivering this. The racket arrived pre-strung in BG65Ti string – a great string and still popular with both professional and amateur players. Disappointingly there was the same issue with stencil ink flaking off within minutes of play, let's hope it's my only gripe.
According to the decals, this is an even balanced racket and I suspect medium/stiff frame, I had expected a medium stiffness as a successor to Arcsaber 7. Maximum string tension is shown as 24lbs which I consider to be low these days. However, no doubt players will simply ignore this, but be aware that you invalidate your warranty if the frame breaks. Removing strings on a broken frame also invalidates warranty, so please be careful.
Whilst I've grown up with head heavy, stiff rackets, my tastes are moving towards even balance, frames with a bit more give in the shaft. Hopefully this racket will deliver what I am expecting, or maybe give me a few surprises.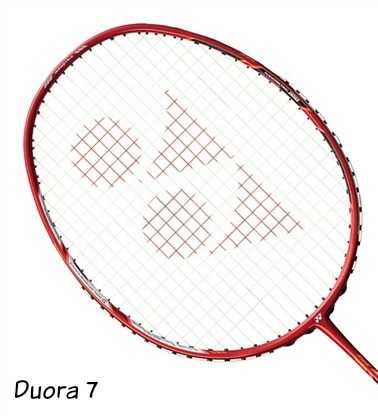 Initially I felt the racket was a touch light for  a 3U model – it was quick in the swing, and I was playing with the "slow" side. I like that, better aerodynamics are always welcome. The head comes through nicely and there is just enough to get a good feel on the string bed to send the shuttle on its way. There wasn't much effort required to hit a good clear which is what we want from a racket like this.
Drop shots were really nice. The head was presented and through the shuttle nice and quick with a good amount of feel on the shot. Slices were good too although you need to add a little more force to make up for the even balance racket – that's not a negative comment, but after using so many head heavy rackets, it's one area that adjustments have to be made. The racket flows really well and reminds me of the Duora 10 in this respect.
Onto the smash. This is where I tend to like a bit of weight in the head. Power is there and with the right player, this racket will deliver really well. The feel is good and just enough weight in the head to know where it is moving. It's quick, as I said earlier, so the quick stick smash plays so well.
Flat drives and pushes were so easy in terms of keeping the racket in position without fatigue setting in. The racket head can be adjusted so quickly to change direction.
Defensively the Duora 7 shines very well. The speed of racket head is good albeit I felt it just lacked a little when needing that extra punch to drive or lift the shuttle. However, the ability to manoeuvre the frame was great and this is one of the key requirements for defending well.
As expected, Duora 7 really performed well at the net. The frame can almost be to fast and I needed to temper my hand movements to time the shot well. This is purely adjusting to the racket, but it's a delight when you know it's just there, in position to take the next shot without a huge effort.



There were times when I felt I needed a touch more head weight and others when Duora 7 was just great. Whilst it wasn't outstanding in every department, no racket is, although some have come closer than others. Wanting more head weight means losing a little speed elsewhere like in defence.
There are a number of professional players using Duora 7 and it's for a good reason. It's a little stiffer than I expected which would be a touch disappointing if I wanted this racket to play like Arcsaber 7. However, for me this meant it was more responsive and I enjoyed it.
For good players, the low recommended tension may be off-putting too. It's a disappointment for a racket of this calibre and price.
RRP is £170 and online retailers are selling for around £140 mark. I think it's a bit pricy for what it does and there are cheaper alternatives that deliver just as much performance. That said, it's the latest technology from Yonex and this, coupled with the great colour scheme will appeal to many. Set aside the marketing/technology and the racket is a very good all-rounder.  I've given the Yonex Duora 7 badminton racket a 4 star rating and recommend you give it a try.