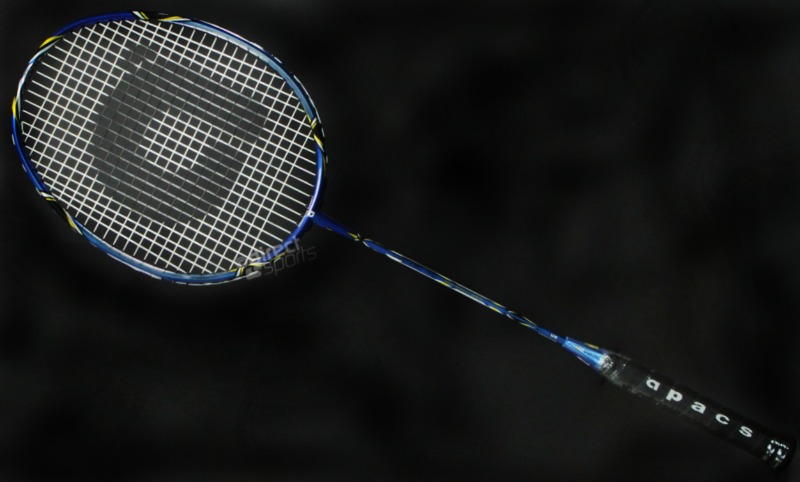 It's been some time since I reviewed an APACS badminton racket. Looking back at my old reviews I remember testing the Lethal 90 and Tantrum 300 way back in 2012. Sadly, it's been difficult to get hold of these fine rackets since then.
In 2012 I tested a batch of APACS rackets. Some were disappointing and others really good. At the time APACS manufactured a range of rackets based on premium brand names with virtually identical colours. They also manufactured their own ranges too. I wasn't a fan of the "clones" considering APACS were better than trading off the back of another brand. At the time of writing this review I hadn't undertaken additional research to clarify the current position with their lines of rackets.
The APACS Virtuoso Pro is a great looking racket in a rich, almost metallic royal blue with yellow and black decals. I really liked the colour combination although it's a shame one of the decals is out of line. The racket arrived in a cover that can best be described as a smaller racket bag – very impressive and a far cry from no cover whatsoever.
This is a 4U (80-84g) G2 which I consider equivalent to G5 in other manufacturer settings. I wish there was a universal agreement on grip sizing. The racket was pre-strung with APACS Virtuoso string at a reasonably high tension. I also noticed a decal advising that the racket can be strung to 35lbs tension. This is high and typical of APACS. Unless you are a professional player, there's absolutely no point in even considering having this racket restrung to this tension.
Specs on this racket are, head heavy and stiff shaft. This is pretty much a favoured combination for me. I've tested many head heavy rackets recently so it's a fine time to compare to other brands.
The feel of the racket is really good. The head heavy, stiff shaft combination makes clears relatively easy. Overall this racket moved well, not sluggish at all. The thinner 7mm stiff shaft works really well in transferring power. The head provides all the usual feedback to ensure I'm fully aware where it is at any time. My clears were good although there's a dampening aspect at work here which I can only attribute to the string. Maybe the string is old. Tension feels good but there wasn't much life from the strings, which is a shame as this dulls the feel of the shot. So, whilst the racket feels good, I would certainly select an alternative string which should make a massive improvement on the result.
Drop shots were a little dull and nothing special. I tested a number of variations but the overall feel didn't excite me. Again, I attribute this to the string rather than the racket itself, although cannot be certain without testing.
Onto the smash. The racket is reasonably aerodynamic although not as fast as the Ashaway X-Speed. Hitting power was good and I feel would improve with a better string. I still managed to hit a number of good smashes but there wasn't any crispness of feel on the racket face.
Flat drives and pushes were a little tougher to control but that's expected with this combination. A week or so spent on my armchair exercises would really help. Thankfully the head weight wasn't too much to cause the onset of fatigue very quickly, but it's enough that you have to demonstrate good technique and remain alert to take the shuttle early.
In defence you really need to work this racket, although when you time the return, the feeling is overshadowed by the dullness from the string. The racket deserves a better chance than this as it's still pretty quick to respond. Blocks were controllable but I just missed the ping from a wristy flick or drive.
I enjoy playing at the net, trying to dominate and intimidate my opponent. APACS Virtuoso Pro is fairly sharp and requires very little touch to drop the shuttle on the net or apply a squeeze to send the shuttle like a dart into a target zone. Net shots could have been better however, there really wasn't the touch in the string – what a shame.

APACS Virtuoso is a good racket. The frame is really study and thankfully on this model there is excellent stability and virtually zero twist in the head if the shuttle is struck off-centre.
For me, the major downside was the string. I've not used it before however still believe it's this string that has contributed to the more disappointing comments throughout this review. I can't be 100% certain because I hadn't the time to test the racket with an alternative string at my preferred tension. However, I've tested enough rackets to understand the importance a string and tension can make in performance.
RRP is £130 and online stores have already discounted to just under £90, which I consider to be excellent value for money. With a restring of your choice, this should transform the APACS Virtuoso Pro into a far more clinical weapon. In my opinion you are getting a bargain here. With great looks, a fabulous racket cover/bag and this price, what more could you ask for?
Weighing up the various factors and the amazing price, I'll award APACS Virtuoso Pro three stars. It's good to see new APACS rackets on the market as they are a good brand when they manufacture rackets like this. Forget the clones and go for their original models.