Background
Victor Europe have recently launched their new catalogue, timed for release with German Open and All England tournaments.
There's a number of new badminton rackets available this year including the eagerly awaited Thruster K 9000. As usual, most Victor rackets are launched in Asia first, with a select few heading for Europe, rather than the entire range.
Having tested and thoroughly enjoyed Thruster 6000, which has already sold out twice in such a short period since release in 2013, I'm curious what the Thruster 9000 has to offer considering specs are identical.
All higher priced Victor racquets are delivered unstrung but with a single set included. I like this idea as most players prefer custom stringing. The racquet was strung at 25lbs tension without prestretch using Victor VS850 string, a 0.68 gauge string. I've used this string a lot and really enjoy is lively feel.
This is a 4U G5 version which I believe worked incredibly well with Thruster 6000, providing much need speed and maneuverability. Colours are superb with a blend of black and almost electric blue. In my opinion this is the best-looking Victor racket I have ever seen, and many others have agreed with me.
According to Victor, this racket is a stiffer version of Thruster 6000 which was initially confusing considering specs are identical. However, a side-by-side analysis confirms the handle is around 0.5cm longer, which means the shaft is shorter. This, coupled with slightly different construction creates the additional stiffness.  So let's test this out…
It's hitting time…
The initial feel is very similar to Thruster 6000 although there's more sense of the head weight. Additionally, it still retains the feel of the fast frame which I was delighted with, as I almost expected a slower frame like Thruster 8000.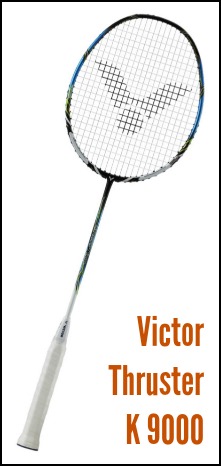 Within a few shots I was smiling. The extra stiffness in the frame felt great. For me it was like playing with an old friend that's undergone a few pleasant upgrades. Timing was easy and there's a greater feel of strength to this compared to Thruster 6000. The overall flow was just that little bit better and yet there was still the speed in the frame for the snappy shots when late onto the shuttle.
For me the additional stiffness in the shaft just felt right, but there again I've a long history in this game going back to times when all badminton rackets were relatively stiff. For those players that need the flexibility in the shaft to provide a touch more power, then it's likely Thruster 6000 will suit them better.
What I enjoyed most here was that there wasn't too much of anything. The frame isn't too stiff that it's only for a select few players. It's also not too head heavy that your arm feels exhausted after a few points. Also, the feel on the shuttle remains rock solid which I believe is important and generally lacking on lighter headed rackets,
although I concede that's my taste.
I compared Thruster 6000 to AT900T and there's certainly a leaning towards this racket too. It probably sits somewhere between 900T and 900P getting the best of both.
Drop shots were so solid, crisp and a real delight because the combination of speed with strength works so well together. The solid frame presents such a great feel on impact that provides confidence in off center hits still finding the target.
Onto the smash and I have only good things to say here. I'm far from being the biggest hitter and so I have to consider placement first. However, like the Thruster 6000, I enjoyed the ability to snap a smash using mainly wrist or alternatively use a full arm swing. When I caught the shuttle well, my smash was pretty good. What I found useful here is the knowledge and confidence with the racket that I also had with Thruster 6000. There's plenty of power in the racket.
Fast, flat rallies and drives were simply amazing. Lots of control, easy to get over the shuttle, change the angles on the racket face, pull a few from behind me and yet there's still that solid powerful strike. Also, unlike with some head heavy rackets, you don't need a big swing to generate speed when you need it. At times, the mere squeeze of my fingers was enough to take the shuttle where I wanted it to go – fantastic!
Defensively the Thruster K9000 is a star performer in the head heavy category, just like 6000. Whilst I'm comfortable defending, there wasn't an occasion when I didn't get my racket to the shuttle, unless I was pulled out of position. The speed generated gave the power for drives and low trajectory lifts, or powering up to the rear court with loads of height. And yet, the head weight ensured I could control blocks, steering the shuttle where I wanted. Again, the rock solid feel on the racket face upped the level of control and placement. With the slightly stiffer shaft, there seemed to be a slightly faster response in defense which particularly pleased me.
Around the net, TK9000 continued to mimic the exceptional performance of TK6000. I really enjoyed the ease and speed this racket worked whether I was playing shuttles below or above the net. There's so much control and speed that there's never a feeling of forcing the racket to perform or be in the right place at the right time.
Summary
Having enjoyed Thruster 6000 so much, the question is whether Thruster 9000 is that much better. For me, I think it is, but not by much. This is simply down to personal choice and the fact that I've grown up with stiff frames and therefore the stiffer frame feels better for me.
I also thought Thruster 9000 had more to give and therefore I restrung the racket to 28lbs to give it another few hours. The additional control and liveliness of the string bed was amazing.
Going beyond this, I have integrated TK9000 into my new demo bag and the last three demos I ran, the player chose Thruster 9000 as their racket of choice and subsequently placed an order for it. That speaks volumes for the racket. I also received so many positive comments on the other rackets in the range which confirms my thoughts that Victor has a tremendously strong range this season.
RRP is £190 which makes Thruster 9000 Victor's most expensive racket, Online retailers are selling for £150 which is a fair chunk off the price. So, 9000 is a good £20-30 more than TK6000. Is it worth it? For me, that's a simple YES! However, it's really down to personal taste whether you need the stiffer 9000 or the slightly more flexible 6000. That said, this combination of head heavy, medium/stiff  flex, 4U works like a dream.
Onto the tricky part, rating this racket. I gave TK6000 my highest ever rating and I feel TK9000 plays even better. That said, it's slightly more expensive…but it looks amazing!
Taking all of this into consideration, I'm sticking to my guns rewarding Victor Thruster K9000 Badminton Racquet a 5 star plus rating to match TK6000. It would be unfair not to. If you get the opportunity to test TK9000 or TK6000 then please do so because you may discover two amazing rackets that are well worth the price.
To receive regular badminton help, advice and tips from me by email, click here to subscribe to my mailing list
Save